Bisex 101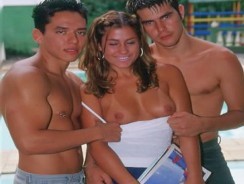 JUB Site Rating:
0 total vote





Bisex 101's Billing & Pricing
Bisex 101's primary billing processor: Ccbill
Bisex 101's optional billing processor(s): Paycom
$29.95 30-Days Membership renew every 30 days
$59.95 90-Days Membership renew every 90 days
VISIT Bisex 101 NOW!


There were 19 videos when I called into the members' area and these were available in scenes either through streaming or downloading. You have both a high speed and a low speed versions to try out and you can even download a DVD quality Windows Media Player version of the entire episode. I like it, I like it!

I checked out one that I was drawn to by a very sexy guy with a hairy chest. The clip ran for five minutes and started with a girl lost in the woods, she asks something (in some language I've never heard before) and wanders off leaving the topless hunk to get on with his work. Then along comes another topless Latvian (or whatever they are) and the two start kissing. At this point the music started but the guys were so sexy I didn't care. And what's a lost girl to do when she comes back to find two studs sucking each other off? Join in of course and get her pussy and mouth filed at the same time. Boys will be bottom boys and there's plenty of guy on guy anal action while she looks on helplessly for a while before receiving some oral attention of her own.

That was just one episode and I detail it to give you an idea of the story line. The quality was great in the high speed version so aim for them when you go to view. Other stories involved two guys and two girls with double penetrations and hot foursome action around the pool table. There were some shaven headed guys, dark skinned ones and some luscious young twinky types getting both male and female attention and loads of nice double cum shots. Even in the scenes where there were two girls and one boy he got a toy up his ass and the guys get their facials as well as the girls, so there's a good selection of all possible combinations.

Each of these episodes has a set of image to go along with it and these are just fine. But for more content simply return to the home page and check out the other things available to you. There are six slideshows in the pictures area and you can view the show or individual pics and even download them as a zip file. These are bi-sex pics of course so we're still in the same niche with more smooth boys getting manly cocks in their ass and pussies in their face. Go to the Bonus Sites area and you can access seven other sites from the same team. Twink Boarding School (fab), Fuck That Twink (also fab), Boy Casting (nice), Crotch Buffet and Barely Twinks (good), Handystuds (jerk off time) and Twink Clinic which I haven't seen yet but which I'm going to look at in a moment. Basically it's a great collection and one price for all sites is great value for money.

Bottom Line:
For once I was actually turned on by a bi-sex site so it must be good. Actually it is and as it's part of the same network as those other I've seen before and love I know you're going to get good updates, good customer care and a raging hard-on when you go to view it; which I suggest you do right now.
VISIT Bisex 101 NOW!
VISIT Bisex 101 NOW!