Twink Clinic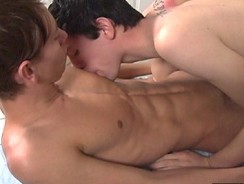 JUB Site Rating:
0 total vote





Twink Clinic's Billing & Pricing
Twink Clinic's primary billing processor: Ccbill
Twink Clinic's optional billing processor(s): Paycom
$2.95 trial membership, recurring
$29.95 per month, recurring
$59.95 for three months, recurring
$89.50 for 12 months non-recurring
VISIT Twink Clinic NOW!
Time for your check up, and time to check in to the Twink Clinic for a heady mix of youth, sex and medical examinations. The fantasy here is all about young guys coming to see the quack and getting a load off their... well, a load out of their nuts and onto their chests I guess. It's hardcore, there's lots that's exclusive, you've got 17 sites included with your membership, and many of them are twink themed, and you are guaranteed not only a good time but a good value for money time too.
You start off with 21 videos, taken from six DVDs and coming along side six image galleries, all on the medical fetish theme. Actually this isn't a heavy fetish site, the fantasy is really around uniforms; doctors in whites and greens, and young sailors feature prominently. There are some examinations but not the heavy kinds with clamps and metal probes and thing that make you go 'ouch', it's a litter calmer than that, more gentle.
But for twink action it's great, though perhaps a little old now? I just took in a classic scene with Winter Vance looking like he'd just turned 18 and I know he's older than that now. Fun to find again, but what's the update news here? I changed the look of the page to show more details - that's another great thing about this network, there are lots of these kinds of interesting things to click and play with - and I found the most recent movie had been made in 2009, and the earliest 2007. Twink Clinic has been around for a while, I remember seeing it ages ago, but it doesn't seem to have added much in recent months, if anything. The movies come from various studios, though the sites are exclusive to the Gaystar Network, so you may have seen them before. But even if you have, you probably won't have seen everything in the bonus sites.
And seeing these movies is easy. You've got a decent Flash stream, a set of download options including versions for mobile phones and the like, and you get good quality productions. Some of the older ones, pre-HD may not be as clear as the more up to date offerings, but there is nothing to moan about with visuals or sound. And no complaints about the guys either, there are some boys here who have gone on to become top Twink names, and some are now even top Jock names. Check the model index, which you can sort in various ways, and see who you recognize.
And once you've done that, you can start to explore the other goodies. There are screen caps with each movie, you have the digital galleries plus a total of 198 sets in the whole network, there are a total of 1,223 videos too, and a collection of 261 full length DVDs from 11 studios. You're also going to find that you can comment, rate, add things to a favorites area, check regular updates to various sites, though not it seems to Twink Clinic, and play around with the search and sort options. Everything technical works well here, this is a network that is well maintained, and you should have no trouble viewing anything. If you do there is even a 'report error' function in your set of handy, interactive playthings.
Bottom Line:
Twink Clinic has a small set of medical themed twink sex movies featuring some younger guys who have gone on to become hot properties. It doesn't look like it is updating much though, and there's no news as to if or when anything else will be added. But you've got several other twink sites included in your membership, a great set of galleries, guys and movies all round, top studios presenting work, exclusives, great quality porn and great value for money.
VISIT Twink Clinic NOW!
VISIT Twink Clinic NOW!