Fratpad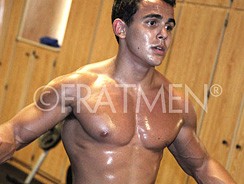 JUB Site Rating:
25 total vote





Fratpad's Billing & Pricing
Fratpad's primary billing processor: Netbilling
30 days for $39.95 - rebills at $19.95
30 days for $39.95 - One time charge
VISIT Fratpad NOW!
Well, I am hooked and I've only got to the first page of the tour. Who is this cute guy who opens the door to the house and welcomes us, big dick swinging, tight butt bouncing ahead of us as he shows us the rooms? You'll find out if you sign up and log in and that's one thing you won't regret doing.
I came to Frat Pad thinking that I was going to get another of those sites where you have the occasional live cam show and loads of archives, recordings of live shows that I missed. It's a strange thing about that kind of site; how they manage to have the live shows when you're out of the room, or not on line. I was expecting a lot of dodgy, dim camerawork and maybe a few bios and pics to view. But boy was I surprised!
First off, this place exists; there really is a house out there with these sexy guys living in it - I'm convinced. Second, you're going to need to enable pop-ups for the site when in the members' area. Third, don't expect to sit and do nothing, this is a place to get interactive. I simply started experimenting with the top menu and opened the Cams tab. What I got was a list of the guys and their cams - click to open the viewing box, and a chat room that I wasn't expecting. And this came with sound, and there was so much sound I had to turn my volume down as it was distracting. I don't mean that in a bad way, but there were so many guys coming in and out of the chat room and a 'ping' each time they did, that it sounded like and old video arcade game was going on. This is a site that's used by its members and not only are you going to chat to the horny house boys, the Frats I guess, but to other members too. And while you're doing that you're watching the guys on cam (when on line) so you really get to be interactive and you can immediately comment, or simply view.
Obviously the boys aren't on line all the time - there is a schedule on your home page and this is in Los Angeles time, so you may need to work out your time zone and adjust accordingly. But there is an archive of live show recordings. In fact there are recordings from over 40 cute and sexy guys who have lived in the Pad. You've got a face pic and a scrolling list of dates, going back a long time. You choose one
(Spencer for example, the guy from the tour, oh be still my beating heart!)
, and simply click to view - in another pop-up window, this time in Flash, and you can jump around the stream too, if you're in a hurry to get to the porno bits.
Ok, I am running out of space; but on top of your live chat, live cams, archives and sexy boys - all wrapped up in a simple to use members' area, you've also got a message service, an area called 'Antics', with fun and silly scenes from group activities at the house, a Private area
(sorry, couldn't get into that for some reason)
, a place to set up and manage your own profile and a help department if needed. All easy to find and use, quick to stream and fun.
Bottom Line:
Not what I was expecting at all, Frat Pad is superb. Not only have you got real life sexy models, in the college dude age range, with great bodies and hot cocks, but you've got action porn, scenes to view, live chat to get involved with, hour after hour of fun and sexy archives to view, and something going on all the time. I can see that it's going to be very easy for folk to sit down and have a quick look at this site and find themselves still glued to it 12 hours later. Perfect.
VISIT Fratpad NOW!
VISIT Fratpad NOW!