High Def Twinks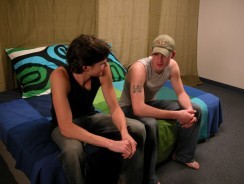 JUB Site Rating:
0 total vote





High Def Twinks's Billing & Pricing
High Def Twinks's primary billing processor: Paycom
Trial Membership $1.00 / 7 Days
1 Month $39.95
VISIT High Def Twinks NOW!


Starting at the members' home page you'll find the latest updates featured and you'll see some of the guys that appeared on the tour. I always like that as most folk get attracted into a site by one or two of the tour guys and, believe it or not, some sites don't feature those guys inside at all. Not so here. I clicked Ross and Thomas and went straight to their video page. The movie is cut into shorter scenes that you can stream on line and these are in both a high and medium quality format suitable for Windows Media Player. Down below you'll find links to stream or download the full versions in three qualities. I clicked the medium one and found the file size to be over 500MBs, so that will give you an idea of how big these files are going to be and how long they will take to get down the line. There are also photo sets with each movie and these come at 50 thumbnails per page. The pages did take a while to load up and I don't think it was my connection; it's just that the quality is so high there's a lot of info per page to be downloaded. Once they are there though you'll be stunned by the quality and each thumbnail will enlarge to a full size image that practically looks lifelike it's so clear.

So bravo to the site for the quality, what about the content? Well this is a new site so don't expect a huge amount of videos at the moment, I counted ten, each one lasting for around 20 minutes. There were nine, sexy young cast members appearing in the movies with various couplings, two of the movies were three-way sex session too. As for the sex itself this was kind of standard fare with two (or three) guys starting with an erotic strip and sensual foreplay before moving on to oral and finally anal sex with nicely filmed cum shots at the end. The performances were just fine and the camera work also up to scratch.

After you've seen your ten videos (more will be added, we are told) you have a few other features to view on the site. The photos page gives you the same sessions but photo galleries only, the DVD page gives you a collection of DVD quality clips from other, I assume non-exclusive, movies and there are some really sexy Latino hunks here. The Bonus content consists of a long list of external feed sites and there are links over to pay to join dating sites.

Bottom Line:
HD is the way forward that's for sure but you'll need to be on a fast connection or else be very patient. This is a new and small site and, like its partner site Hi Def Gays, brings you excellent quality videos and images with a few extra feeds and clips too. More content will, one day, mean a higher score from me.
VISIT High Def Twinks NOW!
VISIT High Def Twinks NOW!