Spy On Dudes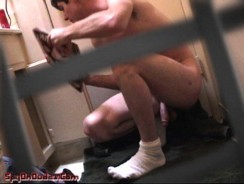 JUB Site Rating:
0 total vote





Spy On Dudes's Billing & Pricing
Spy On Dudes's primary billing processor: Ccbill
$25.00 - 30 DAYS (nonrecurring)
VISIT Spy On Dudes NOW!
Spy on Dudes is a simple site with a simple theme: Real guys are caught on spy cams, the results are then put up on the site for you to watch on line or download. We're told that these are real videos and that the guys in them didn't know they were being filmed.
In the members' area when I was there, there were twenty seven videos; these were available to stream or download in either Windows Media Player or Quicktime. There was also a message at the top of the page suggesting that you turn your firewall off if you have trouble viewing the 'feeds'. I didn't turn mine off and when I tried to stream I only got the download message so it looks like you will have to check your firewall settings if you want to view on line. But downloading was easy and the file weren't too big or cumbersome to get. I tried three movies just to see what the quality would be like. After all, if these are real spy cams then we can't expect perfect quality can we?
Actually it wasn't too bad. The sound was clear enough and so was the image. The camera stayed in one place as you would expect and the guy being caught on it was always just in the right place. It's a bit annoying not to be able to see their faces but I guess that adds to the realism of the set up. One of the videos I saw involved two guys; one had obviously set the thing up and the other didn't have a clue. The second guy blew the first while the first gave us a thumbs up. The movie san for six minutes and was called 'rent'. The second one I viewed also ran for around six minutes and featured a solo guy, no face shot, who came into a stall to read a dirty magazine and then jacked off for a while. The third one was more rewarding; a guy is asleep, or passed out, another guy creeps in with a night vision camera and gets the sleeping guy's cock out, jerks him and blows him. It's all realistic and the blowing guy's face is fuzzed out which make the whole thing look even more 'naughty' and real. This movie ran for over twelve minutes.
So, you have twenty seven of these kind of things to enjoy once you sign up for the site and that's about it, at the moment at any rate. It's quite a new site and the monthly cost reflects the fact that there is not a huge amount of content as yet. There's no information on when anything new may be added either but I hope it is. With more content this site could really grow into something special. I've seen other 'voyeur' material before but nothing as convincing as what we have here. Whether it's a set up with actors or the real deal, or a mixture of both, it doesn't matter, what matters is that it works. I was convinced and a little turned on by what I saw and you will be too, especially if you like voyeur sites and hidden cams.
Bottom Line:
Small but hopefully growing. Spy on Dudes does just that, it gives you videos of varying lengths that come from hidden cameras that spy on unsuspecting duds in the shower, the toilet or in bed. Although they are hidden cams the quality is acceptable and the site works, it does its job. There is some good voyeur content here and I only wish there was more.
VISIT Spy On Dudes NOW!
VISIT Spy On Dudes NOW!