Toegasms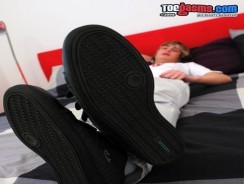 JUB Site Rating:
0 total vote





Toegasms's Billing & Pricing
Toegasms's primary billing processor: Verotel
7 day trial - $14.95, recurring $19.95 monthly
$19.95 for 30 days recurring
$24.95 - 30 Days - Nonrecurring
3 months - $59.95 - Nonrecurring
6 months - $99.95 - Nonrecurring
VISIT Toegasms NOW!
If I tell you that the members' area menu reads: Bare feet, Socks, Shoes, Tickling, Worship & More you will probably guess that Toegasms is a foot fetish site. Bravo and go to the top of the class.
There were 140 episodes in the bare feet section when I was wandering around (barefoot) in the site. These were a mixture of videos, galleries and screen caps collections and there's a little icon or write up to tell you what kind of content you're going to get. The videos stream or download and contain all manner of sex, with a lot of attention being paid to the feet of course. From footwear to toe fucking to cumming on the feet it's all there just as you would hope from a fetish site. It's a good mixture of straightforward gay sex too and the guys are varied in looks, bodies and, presumably, shoe size.
The sock area had around 120 episodes within it as did the shoes department. Some of this content also featured in the bare feet section. I guess it kind of follows that after shoes comes socks comes bare feet so you may as well double up your content. Some of the guys are only here to show you their feet and footwear while others go all the way. Some episodes contain groups of guys clothed while others have solo jack off scenes and hard-core scenes too. It's a rich and varied collection but you are guaranteed some foot worship in everything.
There were only four episodes in the specialist tickling department and I couldn't resist 'Tickled at the beach' where one little blonde thing gets buried in sand, apart from his head and feet, and then tickle-tortured. Two of these episodes were video with gallery and the other two just gallery. There was some toe sucking and extreme foot tickling thrown in for good measure too.
In the video collection there were 15 movies gathered together from around the site. I'm not sure if that's the full video content or not, I saw some of these on the other pages though. They are, like everything else, a mixture of solo and couple scenes, some involving sex and some not; there was some self toe sucking and plenty of footwork though so everything is kept within the niche. Anything you do like the look of you can add to you favourites collection so you can come back to it later and there is a handy model index with all the guys listed over 18 pages. Simply click one you like the look of and you'll go straight to his appearance, so that's easy then. I had a couple of technical problems, sad to say: when downloading I couldn't navigate around the site for some reason and there was an 'error on the page' message on some pages, on these pages my mouse hovered over a link but didn't change to a pointer but to a curser so, at first, I thought the link was broken. Actually it wasn't and when I clicked I went where I wanted to go.
Bottom Line:
Apart from those little technical problems I enjoyed the site. I liked the mixture of porn and fetish material, there was plenty of up close foot content to view in galleries and videos and on top of that the guys were generally young and cute. Many are ordinary blokes who don't mind showing you their feet but who drew the line at getting their cocks out. Some harder, cum on feet videos wouldn't go amiss but what was there was a good quality and horny to view. The best thing about the site though is that it keeps to its promised foot fetish niche and explores all aspects of it.
VISIT Toegasms NOW!
VISIT Toegasms NOW!