Horny Houndogs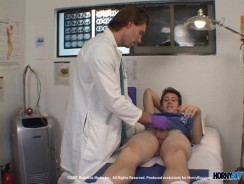 JUB Site Rating:
0 total vote





Horny Houndogs's Billing & Pricing
Horny Houndogs's primary billing processor: Ccbill
$12.99 - 7 Day Membership (non-recurring)
$22.99 - 30 Day Membership (non-recurring)
$55.00 - 90 Day Membership (non-recurring)
VISIT Horny Houndogs NOW!
Horny Houndogs, or HDD as it's also known, is all about presenting amateur straight models in streaming videos and high resolution images. They aim to give you a cross section of the adult male population aged between 18 and 40 and offer their members full access to all previous features, image galleries and a weekly featured video. That all sounds rather scientific so let's move on and do what we came here to do; have a proper look at the sex.
The layout of the site looks straightforward. The featured movie and associated gallery is centre stage and over to the left you have a scrolling frame with all the previous adventures. There were fifty of these when I called in and we'll take a look at them in a moment. First though let me explain about the main, current, feature by way of an example of the content.
There were two ways to view this streaming video, Flash or Windows Media Player, simply click and wait while the movie buffers then starts. You can't fast forward or save the movie so set aside enough time to watch it from start to finish. The featured one I saw was called 'Fucking Feet' and featured Wayne, a tattooed skinhead with a nice big cock, and Wolf a hunky black dude with dreadlocks. We started with Wayne wanking as, apparently, he recalled a blonde girl he'd met in the bar that evening, and there was lots of attention on his feet and his cock. He was soon joined by Wolf and some horny toe sucking and foot licking ensued. After some 69 action Wolf emptied his load across the white boy's face.
Now don't assume that all the videos are to do with foot fetishism, they're not. That just happened to be the featured storyline when I was there. The other videos feature a variety of content including solo jerk offs, interracial couples and good old fashioned ass fucking on the pool table, as you do. The movies are well made with a natural soundtrack - you can hear the camera clicking in the background unfortunately but at least you know the photos were taken with a proper camera and don't come from the video cam. Actually I thought that the photos were going to be a bit of a pain in that there was no clear instruction on how to view them. There is a download button and you can download the files of photos in sections and at first I thought that was it. But then I discovered that if you click the top right thumbnail
(there are a few that surround the large, movie, image)
you get to the first page of the on-line gallery and can navigate through the story, page by page. From here navigation is easy and each image will open up to a full size shot when clicked. So there you go; you don't have to download the large files that contain the images in order to view them, unless you want to of course.
If you simply can't live without owning these movies you can right click and save them from the streaming (WMV) page or click over to the BukBudies store where you can buy loads of hot sex DVDs.
Bottom Line:
You can download these videos when you're a member though I didn't get that from the tour and finding the on-line galleries was a bit hit and miss for me. But the quality of the guys and the film making is excellent, the movies are a good length and, once you're used to the way the site works, it's a real wet dream of a place to be.
VISIT Horny Houndogs NOW!
VISIT Horny Houndogs NOW!