Chillout Boys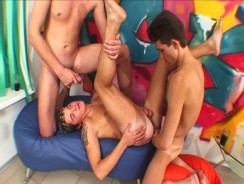 JUB Site Rating:
0 total vote





Chillout Boys's Billing & Pricing
Chillout Boys's primary billing processor: Ccbill
Chillout Boys's optional billing processor(s): 365 Billing, Paycom
$29.95 - 30 Days Access
$69.81 - 90 Days Access
VISIT Chillout Boys NOW!
Chillout boys is a new kid on the block from the producers of the fabby PopBoys.com and QSolo.com; their speciality is finding young and hung teens and twinks who are willing to do anything for a fist full of dollars and, being based in Europe, they have the pick of the crop to choose from. Take a look at the tour, ignore the dodgy set dressing and concentrate on the boys and you'll be boning up in no time. Pay the standard monthly membership fee, enter the members' area and things get better.
The theme here is post party poop-chute plugging if you'll excuse the alliteration. A group of young lads get together after a hard night of clubbing and unwind with a little bit of boy sex. A lot of boy sex actually. O.k. so you know that they haven't really been dancing their tits off all night and it's a studio we're in not a youth club but suspend your disbelief for a while can't you? And remember that this is a new site, it had only been on line for a month when I was there, and so there is not a huge stack of content as yet. In fact there were only 12 videos but they were exclusive, never seen before movies staring some luscious lovelies who, I imagine, are also new to the bizz.
The boys themselves vary in looks from plain to angelic but one thing they all have in common is their youth. I did go and check the legal disclaimer which states they were all over 18 years old when filmed as, in a couple of cases, I needed convincing; they almost looked too young. But apparently they're legal. They've certainly got fully developed cocks and balls and the youngest looking one had an asshole that looked like it had been recently filled by a hundred huge cocks.
(That movie is called 'stranger' if you want to see for yourself.)
The sex is all bareback and hot with plenty of oral and anal action. There's no safe sex warning anywhere, like I have seen on other bareback sites, but Chillout Boys isn't about getting the safe sex message home, that's obvious.
Each movie gets its own page from where you can either go to the photo galleries to find a varying amount of good quality pics or you can go to the video page. If you browse through the photos you'll come across a little design fault which needs sorting out: there's no easy or quick way back to the main pages when you've finished, you have to use your back button to reverse out and if you've been through every page this can take some time.
Each of the movies comes as one big file download where you get the entire episode nicely edited or you can grab individual parts in smaller files. You have Windows Media Player format
(wmv)
or AVI files and the size depends on the length of the movie or clip but there is always a choice of larger or smaller versions: i.e. higher or lower quality. Click on your selection and you can either download the file or click 'open' in the dialogue box to watch the movie on line, but you're better off downloading as it takes the same amount of time to start to play.
Bottom Line:
More content please! What there is currently though is very well made, the boys are young and fit, the sex is hot and everything works really well - apart from having to reverse out of the galleries. It's getting a good score from me because of the quality of what you get and the freshness of the boys.
VISIT Chillout Boys NOW!
VISIT Chillout Boys NOW!