Show Guys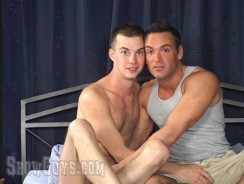 JUB Site Rating:
0 total vote





Show Guys's Billing & Pricing
Show Guys's primary billing processor: Ccbill
$19.95 - 30 days - Recurring
$49.9 - 90 days - Recurring
$89.00 - 180 days - Recurring
$24.98 - 30 days - Recurring
VISIT Show Guys NOW!
Although the tour at Show Guys is extensive, with loads of sample pics, text and a trailer, it doesn't make any over the top claims. I like it already for that reason alone. I hate those wild claims of 'the biggest', 'the best', 'the only' and so on because they so often lead to disappointment. Here at Show Guys you get a simple message; the content is a collection of hot guys in gay action videos and galleries, with some extras thrown in too. So let's go and see how honest the tour is by examining the members' area.
It took me a while to figure out how to get in to the members' area but I finally did it via the sign up page where there is an 'existing members' tab at the bottom. When I did get in however the first thing I got was a streaming video on one side and the live chat box on the right. I ignored them and went straight to the videos collection to hunt down some of the cute and young boys I'd seen on the tour. I clicked one and whizzed straight back to the home page with the selected movie now running on the left. This particular one started with a little chat and a few giggles from the cameraman and cast before the two sexy guys got down to the action. Being an impatient bunny I clicked ahead to around half way through the 52 minute movie, the buffering and streaming happened nice and quickly and there was no hanging around waiting for the move to jump forward and play.
You can play these movies in 'full screen' which is not completely full but big enough but you can't jump around here so you have to watch the movie from the beginning. My advice is to set aside on-line time to enjoy these flicks, settle back and start at the very beginning, a very good place to start... Don't bother to try and download them to watch later as you can't - at least I couldn't find a way of doing this - instead give yourself somewhere in the region of 125 hours to watch all of the 150 movies as each one runs for around 50 minutes.
It's a great collection. Not only is the quality good but the models and the action are varied: there are young twinky guys, slightly older hunky guys, Latinos, duo and trio action, some orgies, you name it it's here. Each video has a gallery of around 50 shots from the movie but the images are on the small side, you can also find these galleries on the 'galleries' page.
The model index, like the rest of the site, is nicely designed and laid out. You get the full list of guys here in alphabetical order and their details include where they're from, how old they are and links to their movies and galleries. It's a good cast list too with guys aged from 18 to 40, cut and uncut, from black haired to redheads, twinks to studs, Latino, black and white guys - a good mixture in my opinion.
Bottom line:
What more could you want? Great looking guys of all ages, colours and builds in well made videos and clear images, performing well and getting down to some very hot sex. You also have the live chat rooms, the forums and links to pay per view and video stores but it's the movie content that will grab you and there is plenty of it. The only thing missing was the ability to download the videos for watching off line, but you can't have everything, more's the pity.
VISIT Show Guys NOW!
VISIT Show Guys NOW!