Keith Manheim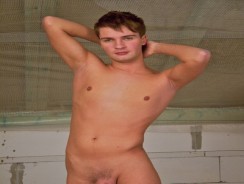 JUB Site Rating:
0 total vote





Keith Manheim's Billing & Pricing
Keith Manheim's primary billing processor: Ccbill
Keith Manheim's optional billing processor(s): 2000 Charge, 365 Billing
$19.95 Billed Monthly
$54.95 Billed Quarterly
$94.94 One Year/One Time Charge
VISIT Keith Manheim NOW!
I loved the introduction page at Keith Manheim and it wasn't just because of the five smooth and sexy young guys at the top of it. The text below spells out exactly what you can expect, promising you downloadable DVDs in formats that you can watch on your computer, iPod, widescreen TV and which you can even burn to DVD to make your own collection. The membership prices are reasonable and they put their contact details right up front for you. So all in all it looks like this is going to be a site to remember.
The tour pages are packed with images and texts so they were a little slow to appear but they are also well designed and professionally laid out. Whipping straight into the members area though and things just got better.
Here there is a list of recent daily updates, examples of the downloadable DVDs, video clips, photos and archives, what's coming soon and links to four reality feed sites. The site is all about twinks and the members' home page introduces you some of the very horny looking youths that wait for you when you venture further inside.
Trying out the downloadable DVDs I went to a page where there were six titles. Click one and you're straight into the download so there was no information about content or stars here. However these are full length DVD quality movies that are not DRM protected so, like the intro said, you can do more or less anything you want with them. In the 'Videos' area of the site you will find 42 scenes, some of which are from those downloadable movies so you can view parts of them in advance. When you click one it will start to stream in the Windows Movie Player box in the window but you can have it play at full screen. You can also run a flash version or download it, but only in an iPod/Quicktime compatible version it seems.
For more on-line viewing you can try the DVD Streaming area of the site. This offers you 24 categories of streaming movie feeds including Euro boys, bears, fetish and Latinos to name a few. These provide you with short clips and are the kind of feeds you may have seen on other sites. The Video Extra tab will take you to six more streaming feeds and the Mega Feeds one gives you another four external sites with a twink theme. We're told that these feeds are each updated monthly so, as long as that is true, you should be in for lots of new material every four weeks or so.
There are 66 exclusive photo sets in the Keith Manheim photos area; many twinks, some from Asia, some from Europe or the USA and include solo and duo sets with a good variety of young sexy boys to enjoy. The photos are generally well taken and you can view them at a good size, if you like a particular shot or set you can cast your vote for it too. And as for the rest of the photo content simply click the Bonus Photos tab to get over 1,000 additional photo-sets. These also feature twinks, as promised, but some also have younger guys with older guys. Although I had seen some of these hot bods before on other sites I still found myself drawn to viewing far more sets than I planned to. Keith Manheim seems to have gone out of his way to bring you the best looking, most fresh faced young talent available.
Bottom line:
The exclusive content is good but we want more of it so keep those updates coming Keith! The extras tend to rely on video feeds so the quality of those will vary depending on who is providing it. But generally you get what you are promised and the boys are gorgeous. A good twink site that's worth the sign up fee.
VISIT Keith Manheim NOW!
VISIT Keith Manheim NOW!