Collin Oneal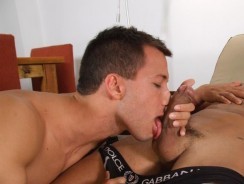 JUB Site Rating:
1 total vote





Collin Oneal's Billing & Pricing
Collin Oneal's primary billing processor: Paycom
Collin Oneal's optional billing processor(s): Ccbill, Unknown
$29.95 for 1 Month (rebills)
1 MONTH FREE - $59.95 for 3 Months (rebills)
$99.95 for 6 Months (does not rebill)
VISIT Collin Oneal NOW!
Collin is someone we all want to be. He spends his time jetting around the world finding sexy hunks to appear in his porn movies and having all kinds of adventures on the way. Take a look at the blog on the site and you'll be as envious as me. Take a look at the models page on the tour and you'll see just what kind of well hung hunks he likes to attract to his world of gay porn; Brazilian guys, East European, all American, smooth, tattooed, he's already found a great selection of talent and the site has only been running for a year or so. And in that time he's already been nominated for two GAYVN awards.
The members' area of his site is neatly set out with latest news centre stage and site links on the left. There are just over thirty original movies on the movies page but before deciding which one to sample I checked out the models to see who I really wanted to see in action. There were 38 guys here, including Collin himself who is pretty awesome, and I chose to look at 'Fred' because I felt sorry for him. Why? Well, he hadn't scored as highly as some of the others but I thought he looked so cute I just had to see more. And I wasn't disappointed. Like many of the other guys here he's got a great big fat cock, a nice smooth ass and he knows exactly what to do with both.
I took a look at him in action with our host Collin and I have to say it was one of the horniest sex vids I've seen in a long time. I compared Fred with Mike who had scored the highest in the members' voting and who also appeared in a scene with Collin. Another hunk, more muscles than Fred, with a dark complexion, juicy cock and a willing ass. In the end I gave them both a score of five as that was the highest I could award.
Anyway, once you've chosen who you want to watch you'll get a page containing links to all his work. You can download or stream the movies and the quality of either option is brilliant. You don't get a choice of speeds or file types as that's decided for you but the files I checked out were a sensible size for downloading, around 70Mbs and the streaming happened very quickly in a good sized player.
There is a good collection of action pics too, nicely shot and high quality and these feature the guys who appeared in the movies. Images are full size and can be viewed as a slideshow with five different speeds. If you are in any doubt as to where to start on this site then use the search box at the top, there are six geographical locations to choose from, from Europe to Brazil and the site content is then sorted for you depending on what type of guy you want to see. You also have Collin's blog to read, and it's well worth reading, there's a calendar of what's coming up and you can even apply to be a model.
Bottom line:
Collin Oneal is clearly dedicated to the craft of producing and appearing in, well made, horny gay porn featuring hunks from all around the world. The site is professionally designed, the technical stuff works well, the texts are informative and readable and you really feel like you're getting something special for your membership fee. The blog seems to be updated almost daily so I have no worries about the uploading of new content. If you want sexy guys and top quality content then climb aboard and come globetrotting, you won't regret it.
VISIT Collin Oneal NOW!
VISIT Collin Oneal NOW!