Handy Studs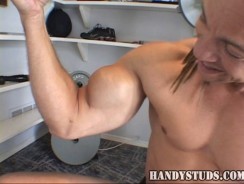 JUB Site Rating:
0 total vote





Handy Studs's Billing & Pricing
Handy Studs's primary billing processor: In House
Handy Studs's optional billing processor(s): Paycom
$2.95 trial membership, recurring
$29.95 per month, recurring
$59.95 for three months, recurring
$89.50 for 12 months non-recurring
VISIT Handy Studs NOW!
Handy Studs is one of those solo sites where you get the chance to play a game. You may have already tried this in the comfort of your own room, but if not... You click into one of the videos, meet a sexy guy, watch him strip, get a good look around his body front and back, usually, then you watch as he stars to get himself hard and jerk of you. The game starts when you start doing what he's doing, and the object of the game is to time your load-blow with his, so you both shoot at the same time. It's quite a skill and I suggest you only practice at home. You can take files for these videos that will run on your iPod and portable device, even your mobile phone, but it's not a game you should try on the subway, or on your way to work. Well, you can, but...
Anyway, how is the content at Handy Studs, is it worth playing along with? I'd say yes, without a doubt or hesitation. You've got 86 exclusive horny videos to stream or download, and you've got 17 sites in your whole network - more about that later. Your solo shoots though involve all kinds of hot guys, mainly in the slightly older than jock, late 20's and upwards, age bracket, all studly and straight looking, all beefy and horny, black, white, Latino, muscled, stocky, smooth, hairy and there are even some solo studs together. Yes, I couldn't quite work out what hardcore duos were doing in here but its nothing to complain about.
You can stream in Flash with a big viewer so be prepared for that, you can download in various file formats, and you can save the movies for as long as you want, there are no restrictions here. You get good quality, well made and intimate solos that come with screen caps and you get links to the 10 released DVDs from whence they came, (if you will excuse some old English). You've also got a site that is functional and fun to use, though you will need to scrutinies it carefully to make sure you get the best from it.
Example: if you start off with the home page showing a set of thumbnails and samples, then click the View option in the drop-down lists above the samples. Doing this shows you more shots from the movie and the date is was uploaded. But even without clicking this function you can clearly see that you are able to rate the scenes and, when you go further in, you realize that you can also comment on them. But your interactive fun doesn't stop there; you've got favorites to collect, links to tag words and link to the guys in the model index for more info. You can send messages to your mates about what's hot, and you can give the movies a thumbs up or report problems. You're also going to see ideas for what and who to view next, links to other scenes of interest and all kinds of fun things built in to your site. It's this kind of additional functionality that makes sites like Handy Studs a great place to hang out.
And then you've got 16 other sites in your bonus list to click into. They all open in the same window and run in the same way, and they are all linked. So, if you're looking for a value place to join, then this, the Gaystar Network, has got to be it.
Bottom Line:
Perfect studs in solo scenes, with some action ones, that are surrounded by loads of interactive extras, bonuses and things to see and do. It's more than just a hot solo experience at Handy Studs, it's a porn network that you will want to stay with for life.
VISIT Handy Studs NOW!
VISIT Handy Studs NOW!