Bear Films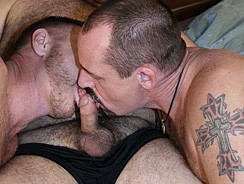 JUB Site Rating:
0 total vote





Bear Films's Billing & Pricing
Bear Films's primary billing processor: Unknown
One Month (Recurring) $19.95
One Time charge $26.95
Three Months (Recurring) $52.95 ($17.65 per month)
One Time charge $59.95
VISIT Bear Films NOW!
It'm so nice to take a break from all the slim, hairless, pretty-boy models that you see on a lot of the sites these days. Now, don't get me wrong. I could look at that kind of man-candy all day long and never tire of it, but sometimes a change of pace can be nice. Enter BearFilms.com. If you are not familiar with the bear scene, a bear is masculine man who is usually very muscular or husky, usually with a beard or goatee and a large amount of body hair. Think big, burly truck driver, lumberjack or construction worker. Even if it'm not your scene or body type, it'm always nice to try different things. If you are a bear or bear lover, then this is the site for you.
I love a site that'm easy to navigate. When I'v really to bust a nut I don't want to have to go searching for the good stuff. And this site puts it all at your fingertips in an easy to use taskbar at the top of the page. With one click you can have access to each of their many features including Action Pics, Video Clips, and Stories. The Fantasy Bears section gives you photos of some hot bear models in a variety of fetish gear while the event pics bring you back to reality with photos from the various bear events, like Bearquake and Bear Pride.
Want to keep the bear action going even when you're not near your computer? The "Store"? section has a great selection of full length DVDs from the BearFilms collection.
The videos are presented mostly in Quicktime, although some of them are available in Windows Media as well. While not as pristine as some other sites, the quality is very good and gives the videos a great touch of realism that would be lost if they were to be cleaned up or "staged" too much. These guys are all about action and they get right down to it. Bears are notorious for their amazing sexual energy and it comes through in these hot videos. You can see clips that are exclusive to the site, and trailers and scenes from the full length DVDs.
Bottom Line:
With great quality content that is totally different than most other gay sites out there, BearFilms.com is a breath of fresh air. Easy to use makes it easy to get off too, and the variety of options lets you create your own unique experience every time you come back to the site. If you like bears, the models are very hot, and it'm obvious they love what they do and it shows in all of the photos and videos. Definitely one to add to your favorites.
VISIT Bear Films NOW!
VISIT Bear Films NOW!