Mark Wolff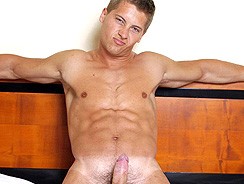 JUB Site Rating:
0 total vote





Mark Wolff's Billing & Pricing
Mark Wolff's primary billing processor: Ccbill
$24.95 - 30 days - Recurring
$34.95 - 30 days - Recurring
$59.95 3 months - Non-Recurring
$89.95 6 months - Non-Recurring
VISIT Mark Wolff NOW!
Apparently Mark Wolff is America'm most published physique model and offers a new standard in muscle worship, so says the animated part of the slick looking tour page. We're also told that the model indexes feature the perfectly formed hunks totally nude, which would make a refreshing change from some musclemen sites I've seen where the models never show absolutely everything. The site looks promising with not only stunning guys but also stunning photography and I'v keen to see if the members' area measures up.
So far so good, the members' home page continues the sleek and stylish looking design with more interesting and well thought out images guiding you to the various parts of the site. Basically there are six areas containing photo galleries and videos; I'll start with the Mark Wolff galleries as he is, after all, the main attraction.
Who said that bodybuilders have small cocks? Check out the pics in Mark'm personal gallery and you'll have that myth dispelled in no time. This dark haired hunk has every muscle in perfect proportion including the hefty one between his legs, hard or soft it complements his perfect physique. There are currently 38 images of Mark in this gallery and you are invited to comment on each one.
I have to admit that my plan was to take you through each of the six sections of the members' area but I got lost. There is a "jump to" facility in the gallery area and I got led off into some of the other 170 or more muscle guy galleries and it took me a while to find the "home" button. (Click the top banner to return home.) I'v not complaining though as all of the pics I viewed were of the same high standard, both the guys and the imagery are top notch. There is some fantasy work here, with gladiator and military costume involved, plenty of wrestling and if you know your bodybuilders by name the chances are you'll find them posing in and out of pouches in these galleries.
The "uncensored video galleries" strangely bring you more photos, some - but not many - showing a little sexual activity and the "Videos" link will take you into the Mark Wolff Video site which is the subject of a separate review. In summary though you'll find 21 videos here featuring well oiled, well hung and well fit muscle guys in good quality videos feeds. And for more video feeds you can enter the "Wolffpacman Live Video player", also found on the members' home page. This is a high quality feed site with 36 clips from previous live shows by muscled hunks and cute younger guys. For the rest of the live action you click over to Flirt4Free and, if I remember correctly, you may have to pay extra to get the private, sexy viewing and chat but there are some free features that you can enjoy. To get back to the Mark Wolff members' home page you'll have to use your back button but you'll get there in the end.
Bottom Line:
Overall this site is definitely well worth a look if you're in to musclemen, bodybuilders and hunks. It'm a specialist site that features loads of well known and not so well known muscle guys with the main attraction being Mark Wolff himself. You're invited to join in by casting your votes on the well taken photography and there are plenty of images in the many galleries for you to collect. There is a reasonable amount of video content as you also access Mark'm video site and archives from the live chat and webcam site. It'm a well priced membership site in my opinion and definitely one of the better musclemen and bodybuilder sites around; and remember, this one shows you full nudity and even gay sex between the guys. My advice? Get oiled up and slip on in!
VISIT Mark Wolff NOW!
VISIT Mark Wolff NOW!