Young Recruits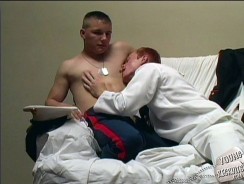 JUB Site Rating:
0 total vote





Young Recruits's Billing & Pricing
Young Recruits's primary billing processor: Ccbill
24.95 for 30 days then 24.95 recurring every 30 days
69.95 for 90 days then 69.95 recurring every 90 days
$29.95 30 day One time charge
$79.95 90 day One time charge
VISIT Young Recruits NOW!


There are 45 video scenes in the collection already and they all feature smooth, young guys in military uniforms. They also feature some pretty hot sex too of course and I fell in lust with just about all of these boys as soon as I saw them. I liked the way that the movies started with an interview with the guys and the fact that you are told what their name and rank, job or whatever it's called, is. Check out Ben Steele, he has to be one of the hottest young military guys I've seen in a long time; he should be in porn not the marines. Here's a tip: if you're on a slower connection speed click the start button to start the movie but be patient. It took a while for some of them to buffer and it's better to wait until that's finished before you play - that way the movie will run more smoothly.

There is a good mix of scenes in the video collection, solo jack offs and couples in action. They all start out in uniforms, with a bit of chat before getting on with what we came to see and once they get going there's no stopping these horny young studs. Plenty of (safe) fucking, blowing and mutual wanking; good quality sound and quality viewing and some of the impromptu dialogue is better spoken than some professional porn actors I've heard. It's also great to hear dog tags rattling while boys are gasping and groaning.

Judging from the interviews these are real marines, sailors and soldiers and it does make me wonder about enlisting; I assume your basic training includes how to fuck a fellow soldier? Anyway, back to the site: There are only 16 galleries up at the moment but the pics go to full size and are good quality. You can view them as a hands-free slide show if you want and there are loads of cute boys here to add to your collection. You can also rate each set and see how many stars other members have given it.

There is also a forum on the site. Set up your nickname and upload an avatar (small image) if you want to before you enter the forum; if you do this you'll find it easier to access the forum. In this area you can leave your comments about the site and, as time goes by, I assume that other topics will be started. It's another user-friendly device that earns points in my book. Oh, and there is a bonus page too with links to cam sites, magazine sites, shopping and so on.

Bottom line:
Even though it's not been around for long Young Recruits promises to be a site worth keeping an eye on. They know what their niche is and they stick to it. You get what you are promised on the tour, it's easy to navigate and you are encouraged to be interactive by voting and contacting the webmaster. The boys are hot, the sex is hot and the quality is excellent. It could all be made even better if it were possible to download the videos or to watch them in a separate browser, so that you could continue browsing the photos while you wait for the buffering, for example. But all good things cum to he who waits and the vids are well worth waiting for. Keep up the good work guys, add more hot material and you'll soon become one of the better military sites around.
VISIT Young Recruits NOW!
VISIT Young Recruits NOW!