Boys Pissing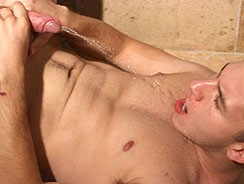 JUB Site Rating:
0 total vote





Boys Pissing's Billing & Pricing
Boys Pissing's primary billing processor: Verotel
$15.95 for 7 days
$39.95 for 30 days
VISIT Boys Pissing NOW!


Straight off this is a fetish site, there's no doubt about that; I mean, the title tells you what to expect, as does the tour. The emphasis here is on young twinks pissing, plain and simple. In the members' area you'll find five areas of visuals, pics and vids, plus a message board, update news and a link to a DVD store. The home page is neatly laid out with large thumbnails of the most recent videos and galleries and at the bottom are links to customer support, FAQ, contact and even 'Model for us' so you can apply to be a Boys Pissing model if you think you have what it takes.

And what does it take to be a model? A quick look at one of the 110 solo galleries will show you that the boys here are smooth, cute, fresh faced and piss a lot. The photo-sets tend to start in a similar way, cute boy strips, sometime all the way and sometimes only some of his clothes. But then things change: in some the boys piss on their clothes, on themselves or in the john, sometimes they jerk off first and then stream up a huge jet of pee, sometimes they are outside and sometimes inside. That's in the solo galleries where you get plenty of images per boy, over 200 in some cases. You get even more in the Watersports department, which features two or more boys together in 32 photo sets. Here you'll see these angelic young things pissing on each other, sucking and coming on each others' faces and fucking. There are duos and group action, with one guy in the bath and his friends emptying their bladders over him, for example, and the quality of all the boys and pics if very high. The same goes for the 22 drinking image galleries, good quality, varied scenarios and sexy boys, only this time the accent is on drinking piss not just spraying it everywhere.

If that's the quality of the images imagine what the videos are like. Same kind of twinks, same quality but with even more different and fetishistic scenarios. You get a choice to download the files or stream on line and you can grab individual scenes or entire, full length movies. There are 67 videos, all on the pissing theme, all with cute, wet and wild twinkys and all of them are easy to view. If you have problems then don't worry as they all come with a link to the troubleshooting FAQs page. Whether you like to see two guys wetting each other, guys pissing in their boxers, in their own mouths, during and after sex or just plain peeing in the toilet bowl you'll find at least one wet 'n' horny video here if not several.

Bottom line:
I can see why this site won its awards. It sticks to its niche and you only get hot looking young guys in pissing (and gay sex) action. There is a message board where you can contact other guys into the same fetish and leave comments about the site - so it's not just a set of images and videos it's interactive too. The quality remains high throughout with camera shots and video, not just stills from the video cam. It knows what you want to see and brings it to you with regular updates. Even though this isn't a particular fetish of mine I'm going to give it the score it deserves, a 5, and I don't often give that score to a site so it must be good!
VISIT Boys Pissing NOW!
VISIT Boys Pissing NOW!