College Dudes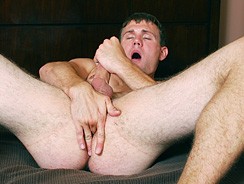 JUB Site Rating:
2 total vote





College Dudes's Billing & Pricing
College Dudes's primary billing processor: Paycom
College Dudes's optional billing processor(s): Ccbill, Netbilling, Wts
$1.00 for a three day trial full access
$69.87 for 6 months full access
$99.87 for a year full access
$19.87 a month if you join monthly
VISIT College Dudes NOW!
This is going to be a bit of a rave, and I make no apologies for that. What was College Dudes 24/7 is now simply College Dudes. Recently re-styled, re-vamped but still carrying the same excellent quality guys and content, this site has started on a new chapter in its life. And it's one that shows us how a top quality gay porn site should be.
The subject matter? Well, you don't need to be a genius to figure that out: horny, smooth, athletic and college-aged guys in solos and action scenes that are exclusive, well made, well put together and very well presented. It's as simple as that, but this is not your average, every-day, simple site. You sign up under a range of options; there are four trial periods to select which might seem a bit confusing at first, and my advice here is to go straight for the monthly membership as it's not expensive, it's easy to do, secure and great value. And you're going to need several days to check out everything the site has on offer.
One inside you notice the stylish design, with black background now, and sample pics that don't just come in a standard frame. It is a mark of the professionalism behind the site that they feature their models against the black background, someone has taken the time and trouble to neatly cut them out from their pics and make them stand out. A small detail but details are important to quality. And these guys are quality, you've got exactly the guys you see on the tour, which is honest, and you get plenty of them.
But what are they doing? Well, each other really, and themselves. The most popular movies come up first on your home page and it's easy to see at a glance why these are popular. Hard bodied, fit and toned college boys doing each other in all the positions under the sun, smooth solos with hung cocks and swinging nuts aplenty, and great sample shots lead you to great content. Clicking through the top menu takes you first to the men, and there were just under 200, arranged by the date they appeared, when I was in the site. Click through the numbered index pages and 'top shots' of the guys appear, with their bodies against that moody black background. These pages open fast and a quick. Clicking on a sexy bod leads you to the model's main page. Here you see what he's been in, and more quick clicks take you to his content.
And that's when you find yourself in the videos area. Here you've got 16 movies per index page, search options and filters, great sample pics, titles, and over 400 hot, exclusive movies to play with. Streams in Flash and downloads are available, the more recent content is now filmed n HD format, so great visual quality, and the filming styles are spot on too. You know, I'm finding it hard to find fault with College Dudes. It always used to be a good site, now it's a perfect site.
The re-vamp has worked, the site is totally tops. You can get involved, there are various interactive options, you've got loads of extras and outtakes, the pages open fast, the quality is great, it's easy to get to the content, the boys are spunky and horny, you've got some models' blogs to read, and archives, a favorites area, and just about everything you could wish for in a hardcore site and more.
Bottom Line:
Yup, this is one for the hall of fame. College Dudes was always good, but now it's even better. The tour promises are kept, the guys are so horny you won't know who to start with, the movies are now HD and great quality, technically everything runs really well, there are two updates a week and basically, you'd be a fool to miss this awesome site.
VISIT College Dudes NOW!
VISIT College Dudes NOW!