Bareback Masters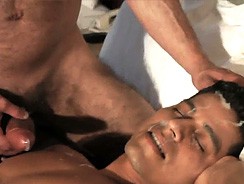 JUB Site Rating:
0 total vote





Bareback Masters's Billing & Pricing
Bareback Masters's primary billing processor: Ccbill
$24.95 - 30 day recurring membership
$34.95 - 30 day non-recurring membership
$59.95 - 90 day recurring membership
VISIT Bareback Masters NOW!
The thing that first appealed to me about Bareback Masters was the language. The text you'll find on the tour is down to earth and honest, at least it reads like that so I'm hoping that what we're promised is what we're going to get: bareback fucking videos featuring real men, tough guys, bodybuilders and daddies. It looks like we're going down to the woods today for a bears picnic and I'm champing at my leather harness to go and see the action.
The members' area looks the same as the tour pages but now you can see everything and there are six pages of videos to get you started. You have a decent sized image, title and running length of each movie to guide you; click one and go to the full details page. Again the text is clear and well written, white on black in a good size and it contains all the information you need. Each scene is divided into clips and you have a choice of high, medium or low resolution to choose from. Medium size files are around the 17MBs mark so it won't take too long to get the action started. If you don't want to wait for a download you can always stream on line and the movies start almost immediately. Of course all this depends on your connection speed but there's enough choice so you'll find something to suit your set up.
And what about the action and the men, I hear you cry! How about this for an example: "Hard at Work" is a 36 minute three way between Jasper Collins, Brian Le and Max Paxx. A redhead, a shaved head and an oriental guy with a deliciously big cock. We're in the garage store room and the hunky guys are in overalls - but not for long. The redhead soon has his huge, shaved, cock out and the other two waste no time in getting to work on it. Tough guys, tough sex, plenty of grunting and dirty-talk soon lead to a completely bareback spitroast with the bald daddy getting plugged at both ends.
Or how about "Bud's Hungry Hole"? Two butch guys in leather, one with facial and other piercings and tattoos, getting on with a bareback fuck in another industrial setting. Other scenarios include: Older daddies with younger hunks, plenty of leather and rough trade, military and prison fuck workouts, a doctor fantasy and two older daddies together. And that's just a few of the thirty-two videos available to you as a member. Movies run from 18 to 30 minutes in length with clips being up to six minutes each. The filming and sound is good and clear and there are plenty of close ups, longer shots and a great deal of 'fuck me', 'yeah' and flesh slapping on flesh to add urgency to the action.
There are twelve picture galleries with large and well photographed images and these are not stills from the movies so the quality is good. A few more galleries would have been even better and hopefully they'll come in time. There is also a model index featuring sixteen of the daddies who appear in the movies. You can also find out more about the guys, Tony & Cam, who put the site together and there are support and contact pages. If you want to buy these and other bareback DVDs you can link to the on-line store.
Bottom Line:
It's hard, it's hairy and it's very horny inside Bareback Masters. It's also good quality and well produced material. The emphasis is on the older, hairier and harder daddy, the sex if fast and hard and, even though there is not a huge amount of content as yet, what you get is what you were promised and it's well worth signing up for.
Safe Sex Notice:
This gallery contains images of unsafe sex practices, also known as barebacking. Engaging in sexual practices without the use of a condom is a risky and unnecessary behavior. There are a lot of studios including the one listed on this page that film bareback or have bareback scenes in their content libraries. The images presented below should only be used for fantasy and you should not deceive yourself into thinking that "everyone is doing it." Further, you should not assume that just because you see photos or film content of barebacking that sexually transmitted diseases have been miraculously cured. HIV and other sexually transmitted diseases are very real and potentially lethal. Please practice safe sex in your own life and educate yourself regarding the dangers of not wearing a condom before having sexual encounters. Visit AMFAR for more information about safer sex.
VISIT Bareback Masters NOW!
VISIT Bareback Masters NOW!