Club Bisexual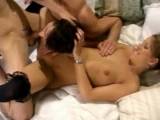 JUB Site Rating:
0 total vote





Club Bisexual's Billing & Pricing
Club Bisexual's primary billing processor: Paycom
30 days access for $29.95
30 days access for $29.95
VISIT Club Bisexual NOW!
The good thing about bisexual sites, for me at least, is that you get to see real straight
(or bi)
guys. O.k. so if you're not bisexual or straight yourself you also get to see girls with their clothes off and everything on show but you can kind of filter that out if you want to. But I think it does us all good to see how the other half lives from time to time. There, that's my thought on bisexual porn sites.
The VIP area at Club Bisexual is nice and simple with clear links and sharp images to guide you. The movie list contains 180 movies and you can sort through it by category. Well actually the site does this for you. Click one of your options: Threesomes, Threesomes with toys, Chick fucking guy, Orgy, Outdoor fun and Miscellaneous and a refreshed page appears with the content of your choice. I thought a bisexual orgy would be a fun place to start, kind of in at the deep end, and here I was presented with twenty movies featuring a various number of boys and girls in each one. Naturally I looked for the cutest boy in the large sized thumbnails that give you an idea of what the movie contains and was a bit spoiled for choice to be honest. I finally settled on a hunky redhead and went to the movie page.
You can download the whole movie in one go if you want, a high quality WMV file or a medium quality MPG. If you want to sample a scene first then there are two minute clips for you to stream on line. The ones I saw were excellent quality and, thanks to the three boys and only one chick
(and the redhead who had a great cock and a face full of jizz,)
I had a wail of a time watching them.
I had similar fun with other large orgy scenes as the cast tends to consist of more men than women. I'm trying not to be sexist here but it is easy to ignore what she's getting up to when two very sexy Arab lads are fucking on one side of the screen and the camera stays on them for a good length of time. There's a good mix of guys in Club Bisexual; black and white, Latino and Mediterranean, younger and older and they're all hot. As are the videos in the other categories.
To get back to the main page click the logo at the top
(there's no obvious links on the categories pages)
and sample the picture galleries. You've only got nine galleries here at the moment but the pictures are big and good quality and it's a good accompaniment to the videos which are the main content of the site.
There are an extra 28 feed sites for you to access too; most are straight feeds but there are some good gay ones in there like Gay Renters and Boys that Gagged. So if you need a break from the Bi sex stuff the site has thought of that too.
Bottom line:
An excellent Bi Sex site that is filled with horny boy on boy on girl and toy action. The movies are good quality and the guys alone are enough to turn you on - let alone the things they get up to. You can access bonus feed sites with only gay content for a break but you'll find yourself drawn back to the Bi Sex action, if only to see which of the cute guys blows his load on the other one first. Think about this for a second: I'm a gay man but I was turned on by this bisexual action. That says it all I think.
VISIT Club Bisexual NOW!
VISIT Club Bisexual NOW!