William Higgins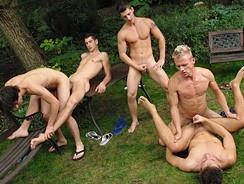 JUB Site Rating:
1 total vote





William Higgins's Billing & Pricing
William Higgins's primary billing processor: Ccbill
$34.95 for 30 days reducing after three months
$39.95 for 30 days, on time charge
$79.95 for 90 days, recurring
$99.95 for 120 days, recurring at $74.95 every 90 days
VISIT William Higgins NOW!
One of the ONLY 4K Ready Gay Porn sites on the web!! That alone should get your attention! This site is Feature Rich beyond any other site on the web, hands down! You heard it from Thunder at JustUsBoys.com!
To keep on top of the game in the porn business you need to onstantly re-invent yourself and go where the interest (money) is. I remember, as a lad, seeing my first porn movie, and it was by William Higgins. It was all about cowboys and guys with moustaches and checked shirts, real bear-clone stuff. A while ago, when clicking into the William Higgins site I found myself in the wonderful world of Czech hunks,
Prague porn and smooth bodied guys under the direction of all-time top Czech boy Johan Paulik. Now, when you log in, you find all of that and more and you can access the 'old site' (2001 to 2010) with your member details, and see the dazzling new content WH has got lined up. Talk about a change in direction from the early days.
It's all hunks now but smooth and toned, young and dare I say 'twinky'? Well, not really your typical twinks, there is always something special about a WH boy, or man and it's hard to describe exactly where they fall. I'd like to say they were all your typical (insert general category word) but they are not. Anyway, they are all top models and great in action and solo scenes, and here's what you find when you log in:
You get to the homepage where images rule the day; you've got loads of sample pics to browse around and a compact and filled out top menu. Explore the home/updates page to find the recent updates and you notice that there seems to be a new movie coming every day. Now that's' what I call an update schedule.
With each movie you get a barrage of viewing options and it can take a while to get your head around them. Streaming Flash, downloading in WMV, Quicktime, HD, full size, lower quality, smaller file... Then view the pics in a classic gallery, standard format, HD, a cinematic slideshow, downloads... blimey! Where do you start? I quickly looked through the slideshow and it's a really neat way of viewing, you
can run your pointer along the thumbs and click as they slide past, changing the top quality image.
As for choosing your movies, you might want to use the category link in the menu.
There were 15 categories here and you click through an interactive sampler from Backstage, through 'full contact' hardcore, to solos and fetish, and end up at DVD scenes. There is also an 'Actions' tab in the menu which sets out the categories with larger visuals. Or you can check out the casting tapes, and then use the model index to find the guys by perfect, though rather small, sample pics and an in-depth search engine. You find loads of details and stats about the boys as William is a guy who takes his models seriously, and he also takes his site(s) seriously, which is something hope you are coming to realise.
So, add on the other little extras, like the access to the huge 'old site' that's bursting with content stretching back 10 years, the blog, the newsletter, the free galleries, and the fact that you can tune in and actually watch what's going on backstage, live, and you end up with what is surely the world leader in 'how to treat your members well' or 'how to run a perfect adult site.'
Bottom Line:
There is almost too much that is good about this site, it's unbelievable. From the amount of content gong back 10 years, to the quality of the guys and the productions, to the interactive interface, the well-designed pages and the site itself, it's all just... well, add in your own superlative. You've heard of William Higgins, you must have, if not then you need to. This site, guy, company and these models, are totally the top of the tree.
VISIT William Higgins NOW!
VISIT William Higgins NOW!