Titan Men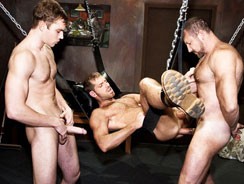 JUB Site Rating:
0 total vote





Titan Men's Billing & Pricing
Titan Men's primary billing processor: In House
Yearly: $99/year
Monthly: $14.95 (1st Month, thereafter $29.95/month)
6 Months: $89.70/6 months
60 Days Non-Recurring: $69.95
VISIT Titan Men NOW!
Well, you know, this is just the pick of the crop when it comes to video on demand, especially when you're up for hard men, hard bodies, hard cocks and hardcore. Titan is a well respected name that you can trust and here you get a perfect service from a perfect video on demand site.
There are four studios presenting their work here; Titan, TitanMen Fresh, Rough and Manplay. The movies are directed by 12 directors and there is a very long list of known and unknown actors appearing in the vast collection of scenes. I took a look at a couple of scenes to find out how things actually worked here.
Once you are signed up and logged in, you simply choose your category, or check out the most recent release, or browse by studio until you settle on a movie to watch. A bit of advice: you've got a favorites area so when you see something 'for later' add it in there so you don't forget what it is. There are so many appealing box shots and titles that you've going to find your 'locker', your favorites area, gets pretty packed pretty fast. Ok, so I've found a title, from TitanMen, I'm told some details about it, director, actors, category and rating. I can rate it, when I've finished it, and add it to my playlist too.
The movie I've chosen is divided into five scenes and little sample images show me various clips from each one. Clicking one that looks appealing, the screen changes and there is a Flash stream buffering in for me. I've got a choice of three speeds, from low to high, and another chance to rate the scene. (I've already given it a five just because there's a studly hunk humping a smoother, younger guy and the quality is perfect, and I'm only viewing a 'medium' version.) Beneath the clip that is streaming is a set of thumbnails showing me all the other clips in the set, so I can easily switch to somewhere else when I want to. And beneath these is a 'members also watched...' set of images.
So, it's easy to get to the actual videos, the quality is awesome, the streaming is painless and quick, the models are totally tops, your dick will be twitching so fast you won't know what to do with it... well, you will of course, and getting around the site is also very easy.
Now then, the big question is, how does the site compare to other VOD sites? Well, you actually pay a monthly subscription here and access the Titan (and others) exclusives, so this isn't pay as you go. Your subscription recurs and the longer period you buy the better value you get. Remember that these are streaming only movies, the site is still quite young but already well stocked and there are updates happening. So ad that lot together and you've got great value for money, and the site compares favorably to other on demand sites. Mind you, if you are looking for, say, skinny young twinks or trannies, or anything effeminate then carry on looking. Titan Men VOD is about powerful, real and husky men, hardcore, with rampant dicks and muscled asses. And, for that kind of content, this has to be the number one site to visit.
Bottom Line:
It's very impressive, it's very exclusive and it's very good quality. You've got an awesome choice of Titan productions here, they are easy to access, here are some neat interactive options and you get total vale for money. I'm raving a bit and writing quickly as I want to get right back to what I've just been viewing; it's horny and addictive.
VISIT Titan Men NOW!
VISIT Titan Men NOW!