Straight Boys Fucking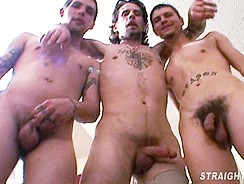 JUB Site Rating:
1 total vote





Straight Boys Fucking's Billing & Pricing
Straight Boys Fucking's primary billing processor: Dhd Media
$6.95 for three days (recurring)
$24.99 for one month (recurring)
$59.99 for three months (non-recurring)
VISIT Straight Boys Fucking NOW!
Your first question is going to be, straight boys fucking who? Other straight boys, girls, dolls, asses, mouths...? Well, try 'all of the above.' I guess you could best describe this site as a bisexual one, but definitely for gay eyes, there are plenty of genuine straight boys who may get involved with a girl at some point, but who usually have to explore each other first. The neat thing is that, unlike many other sites, you get good interviews with the boys included. Why is that good? Let me explain:
I have seen many sites where 'straights go gay for pay' and all you have are two men making out together. How do you know they are straight? You don't. But at Straight Boys Fucking we are definitely looking at real, genuine, hetero, straight men... going gay for whatever reason, possibly pay, maybe just for the fun of it. And if these boys are not straight and genuinely so, then I will eat my hat. Even though I don't wear one. I'll go out and buy one...
So, obviously impressed with the premise here, I started to explore the content in more detail. There were over 120 scenes on the Videos page, a long page of sample shots and one-line summaries. You've got threesomes here
(with a lush lady included)
, bisexual scenes, two guys together and orgy scenes, there is a load of variety and all scenes are easy to access. Older ones may have different resolutions and players than the more modern ones, but I generally found Quicktime and Flash in use with resolutions around 900kbps @ 640 x 360, there were downloads and streams, clips and full scenes. They came with screen caps too so you could check out the action before you stared viewing, and these cap-galleries are different, or separate, from the main image sets.
Those image sets numbered 148 and were equally as varied in content, with a leaning towards straight men fucking girls, and sometimes each other, with BJs and loads of sexy foreplay involved too. Images were generally of a standard but good size, around 465 x 700 in size, some were smaller, and navigation was easy even without slideshow functions or zip file downloads.
And as for the str8 men themselves, there is lots of variety here. Amateur guys for sure but some young, some older, some hung and some cut, some not cut, all hard and all sexy in their own ways. There wasn't a model index, and there isn't a lot of info such as stats, but movies do come with a short introduction. There are, however, some chats before the movies start, and interviews, 13 to be exact, and here you get to meet your cast and find out more about them. These are generally short little clips but they are neat in terms of bringing you some background - and they prove that the boys are straight; as do the other bits of conversation you may hear during the movies themselves.
Members also have a 'features' page which carries links to streaming feeds, magazine sites and technical help and support. Clicking the top banner will take you back to your home page where you can catch up on site news, and find what's new and recent. As content is published with its upload dates you can easily see that the site is adding new, hot material all the time.
Bottom Line:
Think bisexual porn with the focus on the boys - and then add in some boys playing together, genuine straight amateur men of all ages, good quality, easy navigation and regular updates, and there you will have the rather excellent site, Straight Boys Fucking.
VISIT Straight Boys Fucking NOW!
VISIT Straight Boys Fucking NOW!