Twink Boarding School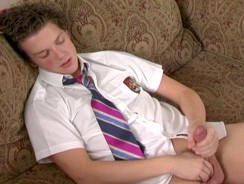 JUB Site Rating:
0 total vote





Twink Boarding School's Billing & Pricing
Twink Boarding School's primary billing processor: Paycom
Twink Boarding School's optional billing processor(s): Ccbill
$29.95 30-Days Membership (Recurring)
$59.95 90-Days Membership (Recurring)
VISIT Twink Boarding School NOW!
Twink Boarding School is one of six sites that you can access when you sign up any one of them - does that make sense? Maybe I need to go back to school and luckily for me, that's what I'm doing. Get your tie done up straight boy! Pull on your shorts and travel back in time to your schooldays with a host of sexy young twinks to guide your around the campus.
Your home page hits you with what's on the curriculum; the featured site is at the top, the latest updates beneath it and what's coming next to the right. Click the network Updates link and down the bottom are your links over to the other sites. But we're here for the twink lessons so let's see how they measure up.
There are 30 movies in the Videos section and they all come with several ways to view them. You have a choice of high or low speed downloads in Windows Movie Player and Quicktime formats for the individual scenes. For the entire movie there's a WMV file but watch out for the size. These are good quality and lengthy movies and the full length files I saw were around the 500Mb mark. The scenes are much quicker to download though so don't worry too much. I was over the moon to see a Winter Vance and Turk Melrose movie I'd not seen before. These two guys are the hottest twinks I've encountered and I've caught them on a few sites. I've actually spoken with Turk and apart from being a gorgeous young man he's a really pleasant and friendly one too. What's better, he makes a great noise when he's coming and loves to be fucked. In this movie Turk plays the student and Winter the older guy who gets his cock serviced before fucking Turk with a dildo and then licking his balls while he jacks off. Phew!
The other scenarios feature equally as hot twinks (almost) and there is a good mixture of solo, duo and group action. You can get off to plenty of cock sucking in uniforms and ass banging wearing the old school tie so the boarding school theme is continued. The students are found making out on the sofa, in the pool and on camping trips and there is even one movie with the naughty boys being spanked. The scenes last for a good three and a half to five minutes each and each one is well made, good quality with sound and as horny as the one before. So all in all a good collection of themed movies is available to you.
In the exclusive pictures area there are only seven galleries but they are good images, well taken and horny so I can't complain. You can see the boys out on the playing field in their sexy shorts as well as inside in their uniforms and it's a neat little collection. There are also galleries with each of the videos by the way. And don't forget that once you've finished playing with the twinks at school you can click over to your five bonus sites. There is more twink content here plus some older, hunkier studs. Again the quality is good and you can access the exclusive videos and pictures from each site.
Bottom Line:
This is a well made and sexy site that will appeal to anyone with a school uniform fetish or anyone who like sweet young twinks. The boys are gorgeous, the school theme is continued in the videos and galleries so it doesn't lose sight of its niche. There are some very hot scenes to download and stream and you have bonus access to others sites and a few feeds too. Good value for money and great sex, what more could you want?
VISIT Twink Boarding School NOW!
VISIT Twink Boarding School NOW!