Hard Dick Project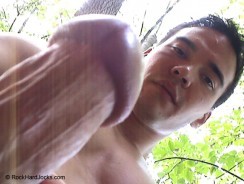 JUB Site Rating:
0 total vote





Hard Dick Project's Billing & Pricing
Hard Dick Project's primary billing processor: Unknown
$2.95 for 3 days!
$24.95 for 30 days!
VISIT Hard Dick Project NOW!
It'm all about movies at the Hard Dick Project and the title kind of sums it up: as your dick will be hard by the time you've viewed the tour area. Here you'll find loads of uncensored stills from the twenty movies you can download when you sign up. You'll see that the guys come in all types and you are in for solo, couples and orgy movies.
The members' area is very straightforward: two pages with ten movies per page, a support link and links to pay per view and live cams, (more about these later). But it'm the movies that we're here for and with titles like Straight to Bareback and When the Wife's Away you might think that these are straight turn gay movies. Well they may be but quite frankly who cares what the orientation of the models is? The sex is good old fashioned, no holes barred, gay action and that'm what we like.
Click one of the good sized screen shots and the movie will start to stream in Windows Media Player, or you can right click and 'save target as' to download the file to your PC. The couple of flicks I sampled were around the 80MBs mark so downloading time will depend on your connection speed. The movies run for around 25 to 30 minutes each so you've got plenty of hours of viewing to look forward to. And as for content there's plenty of variety there too. You'll find scenes shot outdoors, in the pool or the woods as well as indoor locations like in front of the fire, in the gym or the office. The guys who get down to the steamy sex scenes are mainly in their twenties to thirties I'd say, they tend to be on the hunkier side, some with tattoos, many smooth and muscled but all have great equipment and know what to do with it. You're in for oral, anal, jerk off and cum shots in this collection of quality movies.
For those of you who like technical information the videos play at 548 Kbps and are 480 x 360 in size which means you can watch them full screen and still get a sharp picture. The sound quality is good though some of the pre-sex acting is, well, these guys are paid to use what'm between their legs rather than between their ears and I doubt they went to stage school.
As for those extras I mentioned there are four pay per view sites at the top of the extras page which all open in new windows. These are external sites and you will have to pay to see the hundreds of movies they have available. Having said that they do have offers of free minutes worth of viewing and prices are reasonable. The live cams links will take you to another site where you will have to pay to get the full package, the nude, private chat. And the Friends list is a collection of other recommended sites including magazine sites and bears, for that little extra variety in your porn diet.
Bottom Line:
Like so many guys' dicks the site is small but constantly growing bigger. O.k. so there are only 20 movies at the moment but that'm already ten hours of hard-core viewing and the movies on offer are good quality and feature some new and good looking guys. The site is simple to navigate, easy to use and the streaming feature works quickly. It'm good to have the option to download the scenes too and it'm worth sticking around to see what'm going to be added when the site is updated.
VISIT Hard Dick Project NOW!
VISIT Hard Dick Project NOW!