Spunk Toons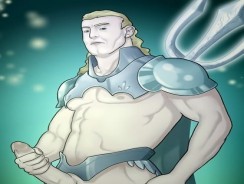 JUB Site Rating:
0 total vote





Spunk Toons's Billing & Pricing
Spunk Toons's primary billing processor: Ccbill
$29.95 for 30 days
$79.95 for 90 days
VISIT Spunk Toons NOW!


So far so good, I'v in toon heaven as the members' home page pops up with twelve thumbnails to guide me to the varied content. Let'm start with the exclusive galleries where I found three pages of neat toon stories in galleries, each gallery opening up its set of drawings perfectly. Great stuff. I've been to toon and Hentai sites before and never manage to play the animated vids but the ones I found at Spunk Toons were in MWV format so I started to get excited. Imagine my disappointment then when they downloaded as .php files which opened in my HTML software as pages of undecipherable code. I clicked to run on line and the same thing happened. I couldn't locate a help section for this problem and so had to let them go, sadly. Instead I went to the animated department and watched some highly entertaining and fun episodes from Gay Life. Each episode runs for five minutes, has a well thought out story line, plenty of one liners, some sex and some characters that you'll want to come back and see each time there'm an update. It'm a kind of adult gay Simpsons with some sex thrown in.

Back at the home page and there was still plenty of content to be enjoyed including eighteen toon sex galleries, twenty-six gay love galleries that weren't all about superheroes or fantasy characters and Hot Rod an on-going series in strip format. You also have 3-D art, where the pictures in the thirteen galleries almost look real (computer generated I guess), the Superheroes galleries (three of them), the sixty shemale galleries and sixteen toon sets where the artwork leans more towards erotic. On top of this you have an archive of ten varied sets, a kind of 'lord high everything else' collection and a couple of games. It'm all entertaining and clever stuff and a great deal of it is actually horny. I never thought I'd get turned on by a cartoon but that'm what Spunk Toons is all about. Fun and sex. I particularly like the way they list their updates: Exclusive updated weekly; Gay Love updated often; Shemales updated irregularly and so on: honest and fun. And there'm a strap to tell you that the site is updated 16 times every month, roughly four times a week. So you're always going to find something new.

Bottom line:
This is a pretty well stocked Anime site and features some high quality, erotic art work from a variety of artists. There'm plenty of fantasy viewing, some genuinely top quality comedy in the Animations and some very stylish drawings. The site is neatly arranged into twelve sections and is easy to navigate. I had a problem with the DVD Video section but that could be because I'v a bit dim, hopefully you'll get on with it o.k. There are very regular updates to the site and it really does look like the webmasters have their eyes permanently on quality. There are hundreds of images and animations to be had here and you don't need to draw (ha ha) heavily on your financial resources to access the site. Check out Spunk Toons even if you're not sure about Anime and Hentai and you'll see how easy it is to be captured and turned on by sexy art.
VISIT Spunk Toons NOW!
VISIT Spunk Toons NOW!