Dilf Lovers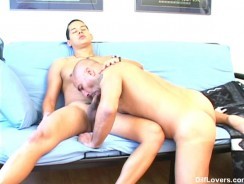 JUB Site Rating:
0 total vote





Dilf Lovers's Billing & Pricing
Dilf Lovers's primary billing processor: Paycom
3 Day Trial - $1.00
5 Day Trial - $6.95
Monthly Membership - $29.97
VISIT Dilf Lovers NOW!
O.k. so call me daft but it took me a while to work out what DILF stands for
(and I may still be wrong)
. I was looking at the tour page and reading "the hottest dads teaching the art of lovemaking to the boy next door" and wondering what was different about this site. The guys look hot, the action looks hotter and the free trailer leaves you in no doubt that there is some very well produced material to be had. So what'm DILF? And then it hit me, dur! Dads I Love to Fuck was the answer I came up with.
Well it could have stood for Do It Like Fairies or Dicks In Ladies Fannies for all I knew but when I entered the members' area I knew it was definitely something to do with dads and fucking. There were twenty episodes on page one featuring the older, hunkier man getting involved in some naughty business with the younger, smoother boy next door type. As I live in Greece (bet you didn't know that) I do know a little about the ancient tradition of the older guy mentoring the younger one and although
DILF Lovers
runs along those lines the age gap between the guys isn't so large as to make this one of those "desperate old guys with spotty East European twinks" sites. Oh no, it's a bit more classy than that. Actually in many of the vids it'm the older guy who gets the younger cock in his ass and in some the guys appear roughly the same age.
Anyway, to view the episodes just click the link and they start to stream in. Or you can right click and "save as" to download the clips. Each movie comes with a picture gallery so you can check out the stills before downloading the files if you want to make sure that the guys you're about to watch are the ones for you. But they're all very hot-n-horny so all or any of the clips will wake your dick up.
Once you've done the DILF exclusives you can check out the featured mature videos: four other sites involving bears and the older guy in a whole heap of uncensored anal, oral and everything-else gay sex action. These sites offer more clips in various streaming speeds and open in new windows so you won't get lost. The same tends to go for the ten bonus sites, the forty video feed sites and the one hundred or so sites in the bonus video archive. The content here is varied involving reality sites, twink videos, muscle guys, oral sites and fetish sites to name but a few. There's such a lot of it you'll be busy for days trying to view it all. And if you need something else to do you can also check out your special offers, links to chat and cam sites and the games arcade. Phew!
Bottom line:

DILF Lovers
(Dads In Live Fucking maybe)
is all about older guys - not ancient - getting it on with younger guys - not teens - in videos and image galleries. There may be only twenty exclusive movies at the moment but hopefully that number will grow as the quality is excellent and the dads and boys next door are super sexy. Built around this core content is masses of extra material, some from the same producers, containing a wide variety of guys in just about every gay sex act you could think of. Whereas the core material may still be thin on the ground the bonus material is stacked up, piled high and yours for the taking when you sign up. You get good quality all round and the site is easy to navigate, well laid out and a pleasure to view.
VISIT Dilf Lovers NOW!
VISIT Dilf Lovers NOW!