Real Boys 4u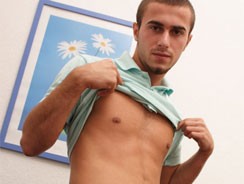 JUB Site Rating:
0 total vote





Real Boys 4u's Billing & Pricing
Real Boys 4u's primary billing processor: Ccbill
$12.95 for a 14 day (recurring) trial period, you may become addicted and want to upgrade to a 30 day subscription, automatically renewable at $24.95 per month.
VISIT Real Boys 4u NOW!
The tour at Real Boys 4U doesn't really tell me what the site is about but the again you don't need to be a genius to work it out. It's about young and adorable looking guys and the stats tell you there are 229 of them. They also tell you that there are 773 videos and 229 picture sets with over 24,000 individual pictures of these sexy young things. So let's get inside and see how things unfold.
So, after logging in and checking the update information on the home page I went straight to the model index. With 16 pics per page and 16 pages to browse it could take you some time to settle on the boy of your dreams. I employed my "random dick finder" technique and said to myself nine-seven, page nine boy number seven and was rewarded with Pablo who had sticky-out ears, dark hair and a big, dark cock. Clicking him I was taken to his personal page where I found five solo video clips, 22Mbs - three minutes - each and four pages of photos. Click a video thumbnail to open the dialogue box and then follow the simple instructions to download the file. I couldn't find a way to steam the vids but that's not a problem, while I was waiting I just went and looked at more sexy boys. There was a handy 'back to page...' feature that took me away from pretty Pablo and back to the harem of horny guys on page nine.
Taking a bit of a stab in the dark and after viewing several pages fm the model index I would say that these guys are in the 18 - 25 year old age range with perhaps a few who are slightly older. They are a good mix of blondes and dark haired guys all with smooth faces and a come to bed look about them. What I am saying is that it's a good line up.
Over on the video pages themselves you will see that they are the same as the model index. It's easy to work out which ones are action videos as there will be two pretty boys in the image. It works the same way as it did for Pablo - click what pic you like the look at and you'll get to the individual pages with the photo galleries and the links to the video downloads. The movies, by the way, when you run them are good quality and play as WMV files at 320 x 240 @ 1000 kbps with a musical soundtrack (that fades so you hear the cum shot) and clear image.
I loved the design of the site. It is professional and sleek without being over full of flashy gimmicks and clever things that only get in the way. You can have the site displayed in English or German and your membership also gains you access to three bonus sites; there is a guestbook you can sign and a help page if you have any trouble. And don't forget your access to Sweet Adonis and Berlin Males plus Bonus Amateurs and Bonus Malepixel.
Bottom Line:
Real Boys 4U is a neat looking site with a set of sexy guys who perform well. In fact, the guys are as good looking as the site itself - or is it the other way around? Either way you are in for high quality models, design, moviemaking and photography and you get bonus sites access to so there's value for money. When you compare this site to many other twink sites out there you have to agree that this is one of the better ones. If it's smooth and hung boys you want then you will want to be a part of this site.
VISIT Real Boys 4u NOW!
VISIT Real Boys 4u NOW!