First Bi Fuck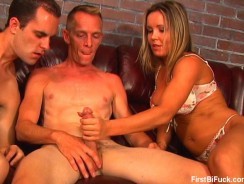 JUB Site Rating:
0 total vote





First Bi Fuck's Billing & Pricing
First Bi Fuck's primary billing processor: Paycom
3 Day Trial - $1.00
5 Day Trial - $6.95
Monthly Membership - $29.97
VISIT First Bi Fuck NOW!
It doesn't matter if you are bi, bi-curious, gay or straight you're in for a treat at
First Bi Fuck
. To put it in simple terms it'm all about two guys and a gal; well, not the same two guys and gal of course, there are plenty of different trios on the tour pages to tempt you and a trailer that streams in quickly. The obvious fact is that the guys get to fuck the gal and each other, everyone gets blown and they all live happily ever after; presumably together.
Now here'm something you don't see every day: a sexy babe strapping on a dildo and fucking a horny, hunky guy while he blows another equally hunky, horny guy. That just about sums up the general action in
First Bi Fuck
but there is a lot more to it than that. Browse through the collection of exclusive vids and galleries on the home page and you'll see what I mean. There are guys of all ages and builds involved in a variety of scenarios. The format tends to be similar in that we start with the two guys, usually on a sofa, they start exploring each other, get their cocks hard and are just about to get on with some straightforward gay sex when the lady pops in. She looks a bit surprised but that soon turns to interest and before you know it she'm got her tits wrapped around a hard-on, or her lips around a knob and caution is thrown to the wind as the happy trio start fucking away like rabbits. He'm on top of her, she'm sitting on his face while he'm fucking his buddy, then it'm all change and she gets a good fucking while he'm blowing the other guy and then there'm three people covered with jizz and looking quite worn out.
Please don't think I'v not taking this seriously. I'v actually feeling quite turned on by this site and, as a completely gay man, that has rather taken me by surprise. The quality of the streaming and downloadable vids is that good it'm almost like being there. If you've ever wondered what bisexual sex looks and sounds like you'll discover it here at
First Bi Fuck
. You can browse the picture galleries or simply start with the movies. Each flick is divided up into seven episodes that run for about three minutes each and, as you can tell from the description above, the combinations are endless.
Away from the exclusive content there are links to eleven other bisexual sex sites. These open in new windows and are like mini movie theatres where you can choose your connection speed and then stream clips from a wide range of bi-sex movies. Some of them are two girls and a guy which kind of smacks of straight-man fantasy while others are two boys and a gal which is much better. But as there are loads of clips to choose from in each of the bonus sites you'll find something to satisfy you I'v sure.
And if you don't well don't despair. Go back to the
First Bi Fuck
member'm home page and scroll down and there you will find forty other sites that you can access. These are gay sites and contain twinks, fetish material, bears, muscle men, monster cocks and just about everything you can think of. Some have images, some have videos and some, I'v sorry to say, didn't work but maybe that was a temporary glitch.
Bottom line:
Two guys and a girl show you exactly what bi-sex sex looks and sounds like in a collection of well made videos and high quality image galleries. You'll learn everything you wanted to know abut how the other half lives and you get lots of extra bonus sites and material too. There'm something for everyone with the main focus being on bisexual MMF orgies.
VISIT First Bi Fuck NOW!
VISIT First Bi Fuck NOW!