Boy Feet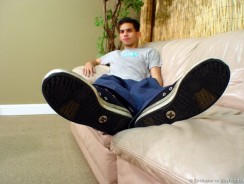 JUB Site Rating:
0 total vote





Boy Feet's Billing & Pricing
Boy Feet's primary billing processor: Ccbill
21.95 for 30 days then 19.95 recurring every 30 days
(1.00 discount after 2 rebills every 1 rebills, 4 times )
55.95 for 90 days then 45.95 recurring every 90 days
24.95 for 30 days (non-recurring)
55.95 for 90 days (non-recurring)
VISIT Boy Feet NOW!
They call themselves the net's first exclusive twink foot fetish site. That's quite a mouthful and the first thing you'll see are gorgeous twinks with a mouthful of feet, so if you're into young lads, toe sucking, and feet generally then you're in for a real treat here at Boys Feet. The free tour will give you some sample clips and images to wet your appetite with some bondage, tickling and of course erotic foot work. But it'm the members' area we want to see so walk this way...
First off you get the list of recent updates and links to the various parts of the site including feet, movies, bonus, live feeds and erotic stories. There were seventeen videos when I checked in and you have the option to view on line or download. The length of movie and the file size vary so check your connection speed before you download so that you get a rough idea of how long you'll have to wait before you get to all the foot action. And yes, the site does keep to its niche and its promises: there are some very horny, cute, smooth and sexy boys in the videos. And there'm loads of foot play, feet sucking, toe fucking and some hints at other fetish stuff as well, like bondage and foot torture. So the emphasis is always on feet and twinks.
That'm in the main video department but what about the image galleries? Well there are fifty nine galleries that you can access by clicking the "feet" tab. The pictures are very well taken, clear and all click up to full size with forward and back buttons for easy browsing. The boys are still as cute and horny and there are plenty of images focusing on feet, but you also get more general boy-sex sucking and fucking action too. As you do in the "bonus" area where you'll find a few non-foot related image galleries of twinks. As a member you can rate the galleries and see how other members have rated them, so there'm a chance for interaction too. You'll see this also on the "contributors" page where members have sent in their own amateur images of themselves and of course their feet. There are two gallery pages here and I reckon this is a very popular part of the site as you can put up your email address and make friends with other guys with a foot fetish.
And talking of getting interactive you can also join in with the forum. Just create a nickname and get posting. Your other bonus extras include some free e-zines, links to live shows and gay shopping opportunities. You also get hundreds of erotic stories too so when you want a break from watching you can have a bit of a horny read. Back at the home page you'll see a couple of links to feet clips and feet movies; Boy Feet goes out and finds you the best foot fetish movies so tat you don't have to and I counted 15 recommended full length movies that you can buy, including Foot Soldiers, Foot Farm and Foot Patrol.
Bottom Line:
Boy Feet keeps its promises and keeps to its niche. It brings you good quality videos and image galleries all featuring hot young things and their feet. It is regularly updated and you get a good choice of material to view on line or download. It also lets you join in with forums and self-pic posting and it searches out good foot fetish DVDs and videos for you to buy. It'm specialist stuff of course but if you are into young guys and feet then this site will be the one for you. Highly recommended.
VISIT Boy Feet NOW!
VISIT Boy Feet NOW!