Dirty Boy Video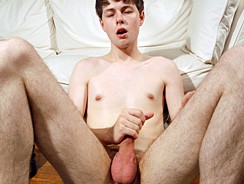 JUB Site Rating:
2 total vote





Dirty Boy Video's Billing & Pricing
Dirty Boy Video's primary billing processor: Dhd Media
$6.95 trial offer
$24.99 for one month
$59.95 for three months
VISIT Dirty Boy Video NOW!
Dirty Boy Video is simple and straight to the point. What you've got here is exclusive porn that features your average guy off the street. That's gay, bi and even straight boys making their first appearances on film. Sometimes they are called back for more and you get a couple of scenes with the same sexy bois, sometimes you have their auditions, some chat or interviews, some solos and some action. But the main point is that this is all natural and straight to the action moviemaking that's well done, well put together, easy to use and surrounded by some neat little extras.
There are plenty of scenes here already, with around 300, but you're also promised two new ones each week, so there's something of a frequent update schedule going on. Grab an ongoing membership, log in and away you go. Oh, keep your login details handy as you may be asked for them when you hit on your fist movie, don't know why that should be but that is how it was for me. I was able to get to it straight away after putting in my details, and it really was plain sailing from then on.
Plain sailing but not plain porn. What's really neat about DBV is a) it takes genuine amateur guys, ordinary men, and puts them in a porn movie situation, and b) it has a very simple-to-use design. You've got your updates on the home page and the first set of existing movies, there are links to some of the extras here too, and there are even things to show you who and what is coming next, and more importantly when. So you are able to keep right up to date with what the site is planning for you.
Then you start to click through the sample pics to see what lies on the other side of them; there are two bulging pages of content at the moment so don't miss the Next button at the bottom of your home page. Each movie comes with a download option and a stream. The stream was a good sized Flash player and I found Mp4 files to download. Many of these scene also had galleries beneath the Flash stream, so you can check out the guys in more detail before you start to view, if you want to. The images were clear and a good size, no fuzzy screen caps and you can always take them one by one.
I didn't see many interactive options here, there was no favourites area, model index
(the whole site is like a model index as the pages are driven by face and body shots of the guys in each movie)
and there was no way to comment or cast votes, and no info really about the guys. But all that aside, you can contact the site if you want to and there are clear links to help and support if you have any trouble. I very much doubt that you will though.
Make sure to check out your extras on the home page, two bonus sites and links to magazine sites, more galleries, chat and cam sites to explore and so on. And then settle in for hours' worth of viewing where the guys from all walks of life play solo, and together in these hot, original movies.
Bottom Line:
Simple and straightforward works well at Dirty Boy Videos. You've got all kinds of amateur boys doing all kinds of dirty things with themselves and with other guys; you've got first date sex, toy play and hardcore all put together in a way which makes viewing and downloading easy. The content is original and exclusive and there are links to various nice extras too. Works for me, it's gunna work for you!
VISIT Dirty Boy Video NOW!
VISIT Dirty Boy Video NOW!