Adult Rental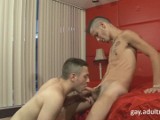 JUB Site Rating:
0 total vote





Adult Rental's Billing & Pricing
Adult Rental's primary billing processor: Unknown
625 min for $49.95
350 min for $29.95
225 min for $19.95
125 min for $14.95
70 min for $9.95
VISIT Adult Rental NOW!
Adult Rental
is a video on demand site and a pretty big one at that. You'll see from the public area that not only does it have gay and straight areas but you can also have the site open up in several languages, (see the flags at the bottom if you need to change language). Click the "Gay" button and you're into the preview area where you can browse through the entire site and see what flicks they have on offer. To view them though you'll need to buy time of course but the rates seem reasonable enough.
First of all there is news on the latest releases and the most popular videos so if you have no idea what you want to view but know you want something good then this should be a guide for you. If however you do know what you like then you can use the search facility or the drop down lists on the left to find your favourite genre, studio or even star. There is a whole host of well known studios and names on these lists and it'm clear to see that a great number of these hard-core movies come from some well respected studios. By the way, if you get lost in this huge site then use the top menu links to get you home or to your favourites (which you can easily store) and everything will be fine.
I could have spent all day counting the amount of available titles at
Adult Rental
but, frankly, life'm too short. Let'm just say "thousands" and leave it at that. There were thirty-six pages of twink movies for a start but I suspect that many movies are doubled up, so that you might find some of these twink flicks also appearing under "bareback" or "outdoors" for example. But hey, that doesn't matter it'm just good to have things so well arranged for you. Once you've decided on a title you can view the cover, see who'm in it and what studio it'm from and then you set about selecting your preferred speed. You get a choice of five speeds at
Adult Rental
from ultra (2 Mbs) down to "low" (dial up) so there will be something to suit your connection; obviously the quality will vary depending on what speed you select. Click the link, a box pops up with your controls and the vid starts to stream in. You can watch it full screen and even buy more time as you go so you won't run out of credits just at the most inopportune moment. If you like what you saw you also get a list of recommendations to what you might like to see next, check out the bottom of the page for that.
Bottom line:
Well, it'm huge! It'm like wandering in to a Blockbusters and finding it stuffed full of the best quality hard-core gay sex porn ever to come out of any studio in the world. The nice thing about
Adult Rental
s is that you don't have to hire the whole movie and use up your credits on a long intro or build up, you can select scenes and get straight to the bits that turn you on the most. You get a huge amount of choice, a good selection of speeds and you can build up your own collection of favourite movies or clips. It'm a really easy site to navigate and has clear help pages and instructions for use. You only pay for what you view so you don't get the feeling that your membership is going to waste when you're not on line. All in all I'd say it is great value for money and a good way to watch your favourite kind of gay porn. Use the full screen mode, turn down the lights and get out your pop corn, sorry your cock and you'll be glued to the screen for many happy, horny hours.
VISIT Adult Rental NOW!
VISIT Adult Rental NOW!