Men Machine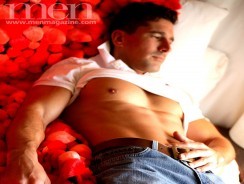 JUB Site Rating:
0 total vote





Men Machine's Billing & Pricing
Men Machine's primary billing processor: Ccbill
Pay by Credit Card:
$9.99 7 Days - Renews at $24.99 per month until canceled.
$24.99 30 Days - Renews at $24.99 per month
$34.99 30 Days - One time charge.
$64.99 90 Days - Recurring.
Great VALUE: $21.66/month

Pay by Check:
$14.99 7 Days - Renews at $29.99 per month until canceled.
$29.99 30 Days - Renews at $29.99 per month.
$39.99 30 Days - One time charge.
$69.99 90 Days - Renews at $69.99 per month
BEST VALUE: $23.33/month
VISIT Men Machine NOW!
Here at
Men Machine
you're offered access to thousands of galleries, movies, stories and articles by the publishers of such well respected magazines as Unzipped and Freshmen. The simple intro page shows you some of the latest studs to appear on the site and also lists the bonus access sites you get when you join. You can also preview their porn store or check out the published magazines. To see what the site is like inside though we need to view the members' area.
The main page brought up four new galleries featuring some
very sexy guys with huge cocks
. You can view the pics in a choice of three qualities and take a slide show option if you want. Further down the page was the featured movie and beneath this were articles and stories. It'm like opening a top quality glossy man-mag and you can tell from the start that this site takes its work seriously. It'm very well designed and laid out and you just get the feeling that you're part of an exclusive club and that you will be well looked after.
The photo Galleries tab takes you first to
177 pages of Men Galleries with five models per page
. The images are all professional taken, some studio shoots and some out on location. You get info about the model and what edition of the magazine he appeared in and again you get quality options for viewing. There are some
top class men here
, take it from me. And I mean men not boys or twinks, this is real erotic stuff and with no messing about. There are three other magazines features in the galleries area: Freshmen galleries has slightly younger but equally as sexy guys as do the Unzipped Galleries. The forth collection is from [2] magazine which features erotic photo sets of couples.
The video section works the same way with the options across the top of the page taking you to various producers and their products. You can view some extremely hot and well produced trailers and order the DVDs on line. You can also buy into the video on demand option if you want to view immediately. There are loads of titles here and you can tell from the trailers just how good the quality is, the prices are very reasonable too.
Move along the top menu to read the features and reviews section which contain articles and more photos from all the magazines featured at
Men Machine
and then move on to the top quality erotic stories. You'll find page after page of sexy fiction here and each tale comes with an illustration. If you're still looking for something to do then you can try out the Live Sex area or take some more time to browse the Porn Store for bargains.
Bottom Line:
I know you have to sign up to get to the content and then you have to buy the DVDs after but this is a top quality site and you do get to access the magazines. So when you think about it you might pay $24.99 for a month'm access but that'm so much cheaper than buying the glossy magazines that are featured in the site, and you get previews of the hot vids, stories and back issues too. This really is a quality site though, I can't stress that enough. It'm well laid out and presented, the guys are hot, the photography and video production is excellent and there'm a huge choice of products in the store which is easy and safe to use. What can I say? Become a member and you've joined an exclusive, high class club.
VISIT Men Machine NOW!
VISIT Men Machine NOW!