Fresh Sx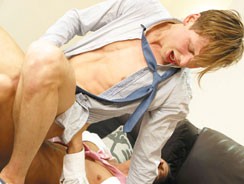 JUB Site Rating:
0 total vote





Fresh Sx's Billing & Pricing
Fresh Sx's primary billing processor: Unknown
$29.99 - 30 day membership recurring.
$34.99 - 30 day membership non-recurring.
$49.99 - 60 day membership non-recurring.
$59.99 - 90 day membership non-recurring.
VISIT Fresh Sx NOW!
The guys at
FreshSX.com
explain that this company is "a new concept in gay adult media", providing fresh new content with the models forming the heart of the company, in front of and behind the camera.... Where some studio sites give you a handful of stills from their movies, this site gives you a whole experience.
The first thing I noticed about
FreshSX.com
is the design. It's a little different than most of sites you've probably seen. The look is very modern, almost like a shopping site, where you are picking out cool outfits or shopping for music, but here you're browsing for hot guys. I love the feel of it, great design work and very easy to get around.
I was quickly distracted from my admiration of the site organization by the photos of mega-hot guys all over the place. Man, these guys are smoking hot, so I dove right in, and the water was fine! The taskbar on the left took me everywhere I wanted to go. I started off with galleries. All the FreshSX exclusive guys are just adorable. I started off with the furry Allan Farmer. I love guys with boyish faces and facial hair. The contrast is really nice. And with his hairy chest, he's just too cute for words. There are also full galleries of movie stills and photos from other studios, so you get a well rounded collection.
The video section contains full
FreshSX
movies, as well as short clips, in Windows Media. The quality is great and they even give you a download option in case you would prefer to save the videos for safe keeping. I really enjoyed the "meet the models" and "behind the scenes" sections because I love seeing what goes on after the director yells CUT! You never know what these sexy guys are gonna get up to. And speaking of the models, there is a "select a model" drop down menu that will allow you to choose any of the FreshSX models and get a full bio on them complete with links to their photos and videos
(and even a chance to vote for your favorites' I gave Luke Howard a 5 out of 5, heh heh)
.
I'm a big fan of extras, so I was pleased to see the section marked "FSX Magazine." Here you can ask model James Connor questions about sex and love, check out some erotic stories, and read reviews of music, film, games, gay nightlife in major cities and more. It's nice to see there's some entertainment on the site in addition to the hot picks and videos.
Before you leave, check out the store. You not only have the opportunity to buy their exceptional collection of DVDs, but you can also purchase a wide range of sex toys, novelties and gifts, and even underwear worn by the models themselves!
Bottom Line:
For a site with everything from really sexy guys, to movie and music reviews, do yourself a favor and check out
FreshSX.com
. The amount of content you get, plus all the fun extras, high quality videos and photos, and the easy to use website, will make you very glad you stopped by.
FreshSX is some nut-busting erotic fun!
VISIT Fresh Sx NOW!
VISIT Fresh Sx NOW!