Black Seducer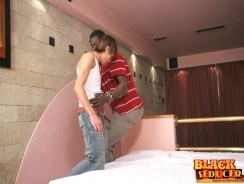 JUB Site Rating:
0 total vote





Black Seducer's Billing & Pricing
Black Seducer's primary billing processor: Ccbill
Black Seducer's optional billing processor(s): Paycom
$29.95 for 30 days
$59.95 for 90 days
VISIT Black Seducer NOW!
Get ready for an eye-watering experience as the star of
Black seducer
whips out his thirteen inch cock and pounds some willing white ass in movies and picture galleries. You won't believe that anyone can have such a huge dick let alone get it into their mouth or ass but it'm true, this guy really is this big. Not only does he have a great big ebony cock but he'm also gifted with a great pair of balls and a nice body too, and he knows what he likes when it comes to seducing young guys.
You get regular updates at the members' home page where you can also see the choice pic and video of the day and catch up on the latest news and updates. Over in the picture department you can browse through the seventy plus galleries each one of which comes with a short write up explaining the scenario. You've got all sorts of set-ups here; our star meets a twink in the park, takes him back and rams his virgin ass; our hero seduces the TV repair guy and shoots a bucket load of cum over his face; the black stallion discovers and innocent white boy asleep but it'm not long before his got all thirteen inches deep inside him. It'm inventive and entertaining stuff. The images all click up to full size, you can download the lot in a zip file or you can run the slideshow, whichever way you view the pics you won't be disappointed with their quality that'm for sure.
Once you've seen the galleries you'll be straining in your pants and will want to see some moving action. Call in to the video area and here you'll find over 80 movies divided up into quick to download three minute clips. You'll need Windows Movie Player
(WMV files)
with DivX codec, but don't panic if that'm all Greek to you, there are clear instructions on the FAQ page and links to the free software.
Again there are some interesting scenarios in the video archive, the action doesn't just take place in the bedroom, and you get to see the full story of what you saw in some of the galleries. The boy who gets a surprise Christmas present from our black Santa is particularly horny by the way. What surprised me after looking through the site for a while was that I didn't get bored. Although the main man is always there getting his monster cock sucked, banging it into his white and Latino fuck buddies and shooting great wads of cum, it doesn't get repetitive like you might think it would. There is enough variety in the guys that get shafted and in the scenarios to make even the eightieth movie as horny and fresh as the first you view.
If you need a break from watching interracial hard-core action you can browse trough the huge collection of erotic stories, all well written and highly readable. Then, if you're still looking for something to do you can view one or all of the nine bonus sites that come with your membership. These include some top quality twink, live and cartoon sites and these extras certainly make
Black seducer
a value for money site.
Bottom Line:
Black seducer
knows its niche and keeps to it. Horny, hung and handsome black guy picks up or seduces horny, not so hung but equally as handsome, white or Latino guys and opens their asses up a few inches for them before splattering their faces with his creamy jizz. That'm basically it but the quality is good and the storylines inventive so you don't get bored. There are lots of extras and bonuses too so you get value for money.
VISIT Black Seducer NOW!
VISIT Black Seducer NOW!