Manifest Men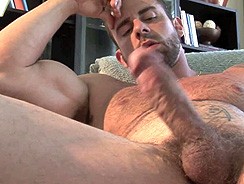 JUB Site Rating:
1 total vote





Manifest Men's Billing & Pricing
Manifest Men's primary billing processor: Ccbill
$29.95 for the first 30 days - Discount each month after.
$29.95 - non-recurring membership
VISIT Manifest Men NOW!
Manifest Men
caters to muscle worship fans. It's the brainchild of Vin Marco, a super-hot, bald body builder - 6'1", 230 pounds, 19-inch biceps, and a 9-inch cock. And his site is packed with so much beefcake and testosterone that it smells like a locker room after the big winning game - yes, you can practically smell it oozing off your computer screen. The
Manifest Men
are serious body builders. These aren't casual- I need to look great for Saturday night... kind of workout guys. These are hardcore beefcake men with 20-inch biceps and 50-inch chests, with bubble butts so big and taught that you could bounce the proverbial quarter right off them and hit the ceiling.
The thing that separates
Manifest Men
from other muscle sites is that I always found myself feeling frustrated on muscle worship sites because I never got to see a lot of cock. You could watch guys posing and pumping, oiling up their bodies, showering, working out, walking along the beach, swimming, and maybe you'd see a nude bubble butt, or sometimes even a cock. But those types of muscle worship sites are more about idolizing the man, not watching him cum. And many of them don't ever show you a cock.
Manifest Men
combines the two aspects and brings us a hot, fucking site - muscle fans will get to see the men showing off every inch of their hard-worked-for bodies, but jack off fans will get to see these beefcake men in solo action. Oh, and by the way,
Manifest Men
dispels the myth that beefcake muscle men are overcompensating for the want of a bigger muscle between their massive thighs. Talk about some horse-hung beefcake!
The site features image and video clip galleries where you get see to the men in all their glory, and the video clips are hardcore, muscle men worshipping their cocks, not just their bodies. Over 50 video clips of Vin Marco and his muscled buddies doing all kinds of things like working out, relaxing in swimming pools and whirlpools, showering, oiling themselves, flexing and pumping, but more importantly, getting their cocks hard and dumping their loads all over their muscled bodies.
In addition to the pre-recorded video, Manifest Men also offers members a live cam show every week featuring completely uncensored chat with a muscle stud. If you really love the live feature, you can also buy time on their brother site, Manifest Muscle Live, for some extended private fun with the man of your choice. I've been surfing gay porn for a long time, and I always wondered why more sites didn't give surfers the opportunity to actually talk and interact with their models. I mean looking at pictures and watching videos is a lot of fun, but when you're really hot for a guy, wouldn't you like to have a chat with him, maybe get a private show - just for you? It seems like a natural progression to me. A convenient schedule shows when each guy is going to be online, and a "whose online" button lets you know who is logged into the site while you're there. The site even has a "panic" button taking you quickly to Google, for those of you porn hogs who live to take a peek at work.
Bottom Line:
Manifest Men
offers you the best of both muscle worship worlds - men idolizing and showing off their hard muscled, beefcake bodies and pumping their cocks and unloading on camera. And with a live show every week, muscle lovers can't go wrong.
VISIT Manifest Men NOW!
VISIT Manifest Men NOW!