Hot Desert Knights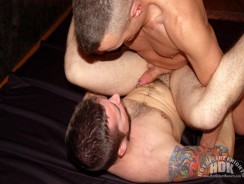 JUB Site Rating:
0 total vote





Hot Desert Knights's Billing & Pricing
Hot Desert Knights's primary billing processor: Paycom
$24.95 for 30 days, recurring; $34.95 for 30 days, one-time charge; $59.95 for 90 days, recurring
VISIT Hot Desert Knights NOW!
Hot Desert Knights
have been online serving up piggy gay porn since 1999 and they've been producing videos and DVDs longer than that.
Hot Desert Knights
main focus is on leather men, bareback sex, and fisting. However, a couple of years back,
Hot Desert Knights
opened up an international division that starting shooting Czech and other European young guys engaged in bareback sex. So the
Hot Desert Knights
of 1999 is very different today, and if you only knew them as an older man studio, you might want to have another look - they've got some pretty hot European guys.
But there'm no doubt that
Hot Desert Knights
is well-known for shooting hot, hairy, older men, leather men, and even a few bears having raunchy and piggy sex. Men in their thirties, forties, and fifties, like Steve Parker (he gives some of the best fuck faces in the biz) Steve Hurley TitPig, big dicked Ray Butler and Will West, butt boy Chad Adams, Larry Wolf, Damien, and too many others to mention.
Every week
Hot Desert Knights
adds new galleries, movies, video clips, and movie trailers to its site. The photos and video clips are all Hot Desert Knight productions. But the site also subscribes to several third-party plugins just to give members a little extra something - BARE, Treasure Island Media, Fratmen, Street Bait and Fetish Force. And each week those feeds are updated as well.
Hot Desert Knights
also offers members a behind-the-scenes look at gay porn in their feed called Making Gay Porn. Watch hundreds of hours of never-before-seen action as well as hours of studio archives from the private HDK studio vaults. You'll get to see the shots and takes that didn't make it into the final DVD, the out-takes, the bloopers, the fluffing, and the guys getting instruction from the director.
The site also offers a variety of screen savers and desktop wallpapers for members to download and there's a selection of nasty postcards you can send to your friends. There's an extensive gay erotic fiction section as well featuring over 20 stories written by members of the site. And if you're a budding writer with a hot bareback experience, they encourage you to send it in.
The site'm video clips are available in Real Player and Windows Media Video formats for both low- and high-speed connections. And they have model galleries as well, so if you've got a favourite HDK man, you can find more of him easily and read through their extensive bios.
Hot Desert Knights
also offers members a 20% discount on purchases in their store. So if there'm a particular clip that you really enjoyed, you can easily buy the DVD. And the store doesn't contain
Hot Desert Knights
DVDs only, they carry a full line of barebacking and piggy sex products from Treasure Island Media, Spunk Video, Raging Stallion, Stud Mall, and others.
Bottom Line:
Hot Desert Knights
brings us some of the piggiest bareback sex on the Net. Cocks, dildos, butt plugs, fists, baseball bats, there's almost nothing these guys won't shove up a guy's ass - consensually, of course.
Safe Sex Notice:
This gallery contains images of unsafe sex practices, also known as barebacking. Engaging in sexual practices without the use of a condom is a risky and unnecessary behavior. There are a lot of studios including the one listed on this page that film bareback or have bareback scenes in their content libraries. The images presented below should only be used for fantasy and you should not deceive yourself into thinking that "everyone is doing it." Further, you should not assume that just because you see photos or film content of barebacking that sexually transmitted diseases have been miraculously cured. HIV and other sexually transmitted diseases are very real and potentially lethal. Please practice safe sex in your own life and educate yourself regarding the dangers of not wearing a condom before having sexual encounters. Visit AMFAR for more information about safer sex.
VISIT Hot Desert Knights NOW!
VISIT Hot Desert Knights NOW!