Pop Boys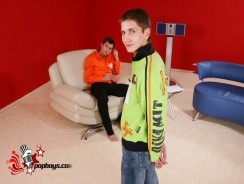 JUB Site Rating:
0 total vote





Pop Boys's Billing & Pricing
Pop Boys's primary billing processor: Paycom
Pop Boys's optional billing processor(s): Unknown
3 DAYS TRIAL - $4.95
1 MONTH FULL - $29.95
90 DAYS PREMIUM - $69.81
VISIT Pop Boys NOW!


Your members' home page brings you the latest news, opinion polls and their results and updates on the latest models and their movies. The site has only been running a short while but there have already been twenty four young hopefuls on Ben'm (the producer'm) casting couch, each one as fuckable as the last. The set up is this: smooth young lads come to Ben'm studio to audition for him, they have stardom twinkling in their hopeful young eyes - eyes that widen when they realise what Ben (who is also sexy and young by the way) has in store for them. Not a lot of singing takes place however as, after a quick interview, they are persuaded to strip, take out Ben'm huge cock and pretend it'm some kind of edible microphone. When their vocal chords have received enough massaging and pounding from his juicy dick and their hungry mouths have been stretched wide enough it'm time for their big opening. That'm the opening of their virgin ass by the way and, thanks to the serious pounding they receive, it'm an opening their not likely to forget in a long time.

One other thing I'll say for Ben; he'm got stamina! Fifteen minutes getting his dick sucked and then relentlessly fucking a tight little ass leads to a huge explosion of jizz across the smooth chest of his wannabe pop star. That was just one of the full length vids that I downloaded and it started straight in at the suck-scene. You get a choice of WMV or AVI files of two different sizes each (from 50 to 130 Mbs roughly) or you can select a scene and play or download only that. Either way you're in for a horny treat as all the guys are gorgeous, Ben himself is top totty and the hard-core action is non-stop. If you'd rather you can also view the choice images from the action in large galleries where you'll find the high quality, high-rez photos.

I can't stress enough how horny this site is, the boys are little angels doing the nasty and enjoying it and the quality is top-notch. I wanted to somehow slip into my PC and join in the action, or at least rush out and start a boy-band pop-star agency if this is what being in "the Biz" is all about. As I said it'm quite a new site but gets updated regularly and as a member you've invited to make suggestions and you can even offer to go and Audition. There are no extras, no bonus sites or frills but, to be quite honest, you won't need them. Pop Boys has got enough of its own, exclusive content to keep you keen.

Bottom line:
It'm fun, fabulous and full of cute twinks getting fucked in the name of fame. Brilliant set up, stunningly gorgeous smooth and innocent guys, nicely designed, easy to navigate, has top quality production values and good member customer care. Have I raved enough yet? Oh, it'm also updated with new, fresh and totally hard-on making young lads getting their first taste of man-meat and hot jizz. You go and take a look, I'v off for a cold shower!
VISIT Pop Boys NOW!
VISIT Pop Boys NOW!