Xtra Inches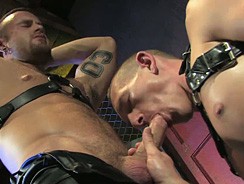 JUB Site Rating:
0 total vote





Xtra Inches's Billing & Pricing
Xtra Inches's primary billing processor: In House
Xtra Inches's optional billing processor(s): Ccbill
$4.95 for one day (recurring)
$24.95 for one month (recurring)
$49.95 for three months (recurring)
$99.95 for six months (non-recurring)
VISIT Xtra Inches NOW!
Obviously Xtra Inches is all about big dicks, you don't need to be a genius to work that one out. But, if you associate big dicks with muscled porn stars and the like, you might be in for a surprise here; the guys are varied, many of the models are amateurs and differ in ages and builds, but they all have that one meaty thing in common.
When you're inside the members' area you will find a left menu that separates out the amateurs and the professionals. I found 120 amateurs videos, 160 amateur photo sets, 217 porn star movies and 380 porn star galleries. When you add in the exclusive live shows that you can also access, and the large collection of past recordings, the feed sites, comics and the blog, you start to see how your membership value starts to stack up.
So, a lot of content and exclusives, and, with 319 models each sporting at least seven inches
(average guess that, there are many who are much, much bigger)
you've also got around 186 feet of cock to enjoy. Your problem here is where to start? I checked the video quality by running an amateur guy video and found that there were five choices of resolution in Flash and five in WMV; there is going to be a speed here to suit your connection, don't worry about that. You only get once choice for download, again in WMV, but it's a good one. Watch out though as these movies are protected and you will need to be a member in order to view them, even after you've downloaded them you will have to connect to the site to get the right to play, which means having current login details and a password.
But that's about the only drawback and the protection is there to ensure that only members of Xtra Inches get to see the hot movies. These films are a mix of solos and action scenes too so you've got plenty of variety. You can find who you want to see through the model index and then find out what content he appears in. There are so many men though it's hard to know where to begin, but there is a search box so you can try a keyword or even a name to see what comes up. When you find a guy you also find some basic stats and a write up about him, there are links to his appearances and you can rate him, thereby getting slightly involved. Make use of the favorites area to store your best guys and build your own stock of hot porn.
They say that Size Matter at this site and it does. They also back up that statement by ensuring that the size of the collection of videos and galleries is big. But the site is also hot on updates, you've got a good live cam schedule and these shows are included in your membership, there are all the extras and bonuses too. So not only do you have loads of guys with big dicks in hardcore porn, but you've got a biog supply of other kinds of hot viewing too.
Bottom Line:
This is one of those
(rare)
sites that give you what it promises you on the tour. You've got a great supply of exclusive movies and galleries, other non-exclusive content, feeds, and even live shows to enjoy for a very sensible price. And you get updates, some interactive options, the blog to read, and easy navigation. Whereas some sites claim to have the biggest, most well hung guys, and don't quite deliver, Xtra Inches gets it all just right.
VISIT Xtra Inches NOW!
VISIT Xtra Inches NOW!