Bi Latin Men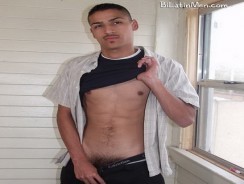 JUB Site Rating:
5 total vote





Bi Latin Men's Billing & Pricing
Bi Latin Men's primary billing processor: Ccbill
$14.95 for 30 days recurring
$29.95 for 90 days recurring
VISIT Bi Latin Men NOW!
If you are on the lookout for hot Latino guys, duos, solos, and some very well hung, dark-skinned and brown eyed guys with hung cocks and smooth asses, and perhaps a little bisexual action as well, then Bi Latin Men is the place for you. But there isn't that much 'Bi' about it, though many of the guys could be bisexual or straight, I mean there isn't a great deal of three-way action, it's mainly guys with guys, but they are all Latinos, well, mainly. OK, so it's a bit of a mix but it is certainly a very big mix.
When I was in the site I counted nearly 800 exclusive movies that were all downloadable and DRM free. The top resolution was kind of DVD quality, not HD, but there were several choices of resolution to choose from with each video. There were over 550 galleries which were also exclusive and easy to access, there were some extras with a mix gallery collection of models, an area of erotic art with all kinds of things from comedy pics to erotica and a collection of Latino themed gay stories. There is also a free area that offers a message board, club listing and information. So, you get all kinds of hot Latino things here, with some bisexual action thrown in from time to time.
I'm not too sure when the site updates as I didn't see any update news here. Movies are listed on very long index pages with a small sample thumbnail and beneath this a long list of viewing options in text form; it's not your standard 'click to get to a viewing page' kind of set up, which can make these long index pages a pain to handle. You might be in danger of losing your place as with so many similar looking sample pics and texts on the page, it all gets to feel the same after a while. When you want to download though a simple right click and save will do it, but streaming was a bit more complicated. Although I was able to download and then run the scene DRM free, when I wanted to test out a WMV stream and opted to Open rather than Save, I was asked for my username and password again, so keep them handy.
Action-wise you don't get let down; this is all about hot and hung Latin guys stroking their meat solo style, getting into fuck and suck fests with each other and then taking part in the occasional three-way. I would still say though that it is mainly guy on guy action. Check the galleries area for your images sets and you find more long pages of small sample shots with names, and you click these to get to the images. There are short intros here and the photos clicked up to good sizes, such as 950 x 633, where they were clear and focused.
So, no complaints about the content, though bi-sex fans might have a hard job sifting through all the gay action, and no complaints about the extras: There are hundreds of individual drawings and pictures and jokes, and then plenty of decent erotic short stories to read. The message board is open to all and though it has a very simple design it seems to be well used. There is a live chat area that's also a bit basic, and there is a free personals area that you can also use.
Bottom Line:
All in all, Bi Latin Men does well in terms of numbers of videos and galleries and it has lots of neat extras too. It's not 100% bisexual though so bi-sex fans might not like it as much as gay guys on the hunt for steamy Latinos. For solos and gay action it's great. We like the extras and the free area, though the members' area somehow feels like it's not that exclusive to members. Something in the design, But for value, you really can't beat it.
DRM free - Yes (but access details needed to stream)
Downloadable - yes
HD - (no, 864 x 480 @ 1.59 Mbps)
VISIT Bi Latin Men NOW!
VISIT Bi Latin Men NOW!