Tommy D Xxx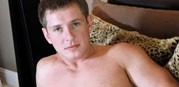 JUB Site Rating:
1 total vote





Tommy D Xxx's Billing & Pricing
Tommy D Xxx's primary billing processor: Unknown
$2.95 for three days trial recurring
$29.95 for 30 days recurring
$68.95 for 90 days recurring
VISIT Tommy D Xxx NOW!
Tommy D has been thrilling us with his body, his cock and his sex since 2001 and he shows no sign of slowing down. In fact he seems to be turning out quality gay porn like the end of the world was coming or something, as his site is even more packed with content than it was when we last saw it several months ago. If you check in to the members' area now you will find over 90 hours of streaming and downloadable hardcore featuring this number one star and a host of other similarly perfect guys.
With all that sex going on you might think it would be hard to find what you want to see but that's not the case. You can start at page one and work through to page 45, treating yourself to a good old dick massage with every one if you have the stamina, or you can search for an actor by name if you know who you are looking for. You may recognise some names on this list, Mason Wyler perhaps or Marc Sterling, or possibly even Clark Kent. (Really? Super!) But however you get to the exclusive videos you're going to find some great treats waiting for you.
Tommy manages to give us a nice mix of content here, though the standard of the guys never fails. We have threesomes and couples in action scenes, plenty of Tommy himself with solos and in action, and varied locations are used to add variety. After a while you might find the men start to feel similar as there are masses of smooth bodies, hung cocks and muscles, but as we're looking for just that kind of guy, this is not going to be too much of a problem.
Your viewing options are generous with Flash streams in two qualities, instant downloads of full length scenes, and Quicktime files to open too. You have a download converter which will tell you how long a download may take on your connection speed, you are told the file size and the neat console that all these options are contained in also has links to sets of screen caps. But screen caps are not your only photo opportunities here as there are digital video-shoot galleries with each episode that are well stocked with good size and well taken stills. It all adds up to good and easy viewing.
(Those picture sets are also arranged on one page and you'll find the link on the top menu.)
Also up on the menu you will find a page about Tommy that contains a basic write up and a set of stats, there are links to a store and the bonus sites. There are five bonus sites for you to cream your knickers over including the three 'Next Door' series and a solo site from Cody Cummings - it's a neat set of bonus content, though Tommy D XXX doesn't actually need a boost in terms of numbers, there are plenty of movies and galleries here already - 180 and counting. Add to that the live shows that Tommy performs in
(there is a schedule so you can ensure you are around when he does)
and the recordings of previous shows, plus his personal blog - all linked at the top of the main page, and you've got not only a great performer but a great collection of steamy content with extras.
Bottom Line:
This guy is unstoppable: his videos and galleries are a great quality as are the other models who appear with
(or without)
him in his big collection of exclusive movies. Here's to another eight years of the same!
VISIT Tommy D Xxx NOW!
VISIT Tommy D Xxx NOW!