Gay Hitchhiker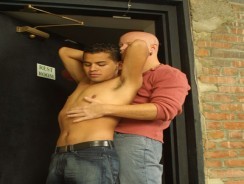 JUB Site Rating:
0 total vote





Gay Hitchhiker's Billing & Pricing
Gay Hitchhiker's primary billing processor: Paycom
Gay Hitchhiker's optional billing processor(s): Wts
3 day trial -- Only $1.85, Renews automatically at $39.28 monthly
1 Month Membership -- $29.99, Renews automatically at $29.99 monthly
VISIT Gay Hitchhiker NOW!
hunky young guy with his thumb sticking out looking for a ride
(if you're in LA, just play along)
. The Adventures of
the Gay Hitchhiker
(on
GayHitchhiker.com
) follows a hot and nasty guy who picks up unsuspecting hitchhikers and gets them to blow him for rides. It'm a pretty simple premise, so there'm not a whole lot of navigation, just click on a video and watch.
This guy
(whom they sometimes call "Casanova" or "our hero")
with his shaved head and blonde goatee is quite the charmer. It'm a lot of fun watching these different episodes just to see how he'll sweet talk some hot young thing into the back seat of his car. For those of you who like things more rough or with a bit of a fetish feel to them, this guy really gets verbal, taunting the guys as
he shoves his dick deep down their throats or up their tight asses
. While the hunky tattoo'd stud Justin is going down on him, he says to the camera man, "he's smacking his lips like he likes it. Tasty meal there." Then he pulls it out and smacks the guy in the face with it
(which may have caused bruises considering the size of that thing)
. Another guy, Jason, was on his way to the beach when he was picked up. Once he'm seduced into taking off his clothes and servicing our hero, he'm asked if the experience made him feel gay. Even the insults are tongue in cheek, with witty banter between the cameraman and the Casanova. In fact, the cameraman will even offer suggestions while the action is going on. It'm all in the spirit of sexy fun.
The videos are offered in Quicktime 6 and Windows Media Player 9 in really good quality. You can either watch them online or download them for easier access. And the thing I really like is that you can easily click on a particular scene or just watch the whole thing at once. And if the videos are not enough, you can also see stills from each shoot in the Photo Galleries section.
This is one of those sites you'll want to keep checking back on. It'm like catching up with your favorite TV show, you'll want to see each new episode. They are kind enough to provide you with a sneak preview of the next video, and with frequent updates there'm a lot to come back to.
Bottom Line:
Watching the sexy young men get seduced by this Casanova guy is more entertaining
(not to mention hotter)
than anything you'll see on TV today, so you may as well Tivo whatever it is you're waiting for and settle in for a few episodes of
GayHitchhiker.com
. You'll get your rocks off and have a lot more fun.
VISIT Gay Hitchhiker NOW!
VISIT Gay Hitchhiker NOW!