With Marcello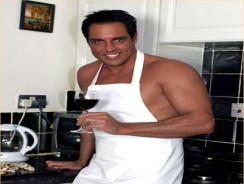 JUB Site Rating:
0 total vote





With Marcello's Billing & Pricing
With Marcello's primary billing processor: Ccbill
30 day membership - $24-95
30 day non-recurring membership $29-95
60 day membership - $34-95
180 day membership - $69-95
VISIT With Marcello NOW!


The members' area at With Marcello is simple; actually it verges on amateur in its design and layout which gives the site a home-made feel - love it or hate it, it's what you have. There is no top menu as such, you'll find a link to 'friends' which are a couple of other muscle guy sites, and links to Previous Episodes or More Updates depending on which of the two pages you area on. These are long pages with shots from each video/gallery and a write up beside each one. At the bottom of the page you'll find links to his blog, the public tour area and the join page (even though we are already members).

One thing you can say about Marcello, he likes to try out new things. Even though most of the content is solo work, (it's all about him even in the 'action' scenes), he varies it by using different locations and costumes. His fantasies are played out for you as he dresses like James Bond, a cowboy, businessman, debonair playboy or sports guy. He goes further in some scenes where he plays out his 'hooded stranger' fantasy involving another guy who sometimes binds him and jacks him off. He plays around the edges of some more interesting fetishes with foot worship and socks, even Champaign poured over the feet and he shows you exactly how to use a penis pump. He has been nominated as the Best Fetish Site by Cybersocket but... well, soft fetish maybe.

You have over 115 of these exclusive movies to view, that's 115 + sessions with Marcello's impressive cock and you get to view them in WMV format (enter your membership details to stream) at 1.27 Mbs @ 320 x 240, not the largest size screen. Some of the episodes also have a QuickTime version to run if you prefer. You can download the videos at a rather sluggish 43kbps.

The images galleries are reasonably well stocked, going for quality rather than quantity - you won't get hundreds of similar looking screen caps but good sized digital images to download and keep. Navigating around them is simple but getting back to the main page (via as many back button hits as it took you to get through the gallery) is a bit of a nightmare.

The important thing to note about this site is that 99% of the content is Marcello, with a couple of other guys making a few appearances. The episodes, I have to say, are better thought out than many. There is usually something of a storyline or at least an introduction as Marcello slips off into fantasy land. Sometimes these little chats work and sometimes you are slightly embarrassed by them, but look past them to the well made, good quality, jack off scenes and you'll be fine.
VISIT With Marcello NOW!
VISIT With Marcello NOW!