Hot Older Male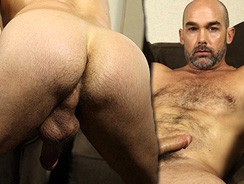 JUB Site Rating:
0 total vote





Hot Older Male's Billing & Pricing
Hot Older Male's primary billing processor: Ccbill
$7.95 3 day trial Renews at $19.95 every 30 days
$19.95 30 days Renews at $19.95 every 30 days
$24.95 30 days One time charge
$49.95 90 days Renews at $49.95 every 90 days
$89.95 180 days Renews at $39.95 every 90 days.
VISIT Hot Older Male NOW!
There are many benefits to having a membership to Hot Older Male, not least of all the access you get to their videos. Daddies, silver daddies, butch hunks, hairy older guys, bears, you name it, as long as he's not a twink or a jock he will be appearing here in these hot exclusives. You also get to access Pantheon Bear when you sign up, there's a good range of payment plans and you get 50% off Pantheon Productions DVDd when you are a member, plus all the other attractions which I'm going to tell you about now.
First off you get a well-designed members' area that is easy to use. There are updates on the home page so you can see what and who is new, and there is a top menu that's easy to follow. This led me first to the Videos and there were 79 pages holding 390 movies dating back ten years when hunky hulk Wylie Edwards kicked the site off with his bear jerk off solo. You might find these earlier videos have less viewing choices than the more recent ones though there were Flash streams, QuickTime and WMV downloads and in medium and large resolutions. The more recent scenes had the same but with the addition of an extra-large versions and I found a top resolution of 1,280 x 720 @ 2,600 kbps, which was just fine. The smaller ones will probably do for phones and slow connections.
The movies are a mix of solos and action with horny older guys jerkin off, or playing rough together, and if you search through you can also find some admirers involved, with younger bears, cubs and sexy chubby guys getting in on the hardcore act. The movies are, as far as I know, mainly exclusive to the site, there are notes about this on them; 'web exclusive' for example. They are certainly good quality and run for decent lengths of time. You can rate them as you see them and add them to a favourites collection, there are ways to arrange the content and there's a list of genres that include older/younger and men over 55.
Racing through the rest of the menu you find The Men with a model index of 419 varied guys with their own galleries, stats and info, pus links to their videos. You can also send a message to each model, rate them, and you can see the date they were active on the site. Those galleries come with zip downloads, high resolution images sometimes, and are easy to browse through online. The menu also takes you to Action Pics for 200 + sets of photos which you can click through and which follow some of the movies in terms of action. I didn't see slideshows or zip files here but the pics were easy enough to browse without them. You then go on to check out your Favourites collection, the Hot Older Male blog for up to date news and info, a store link and a page of other links. Your bonus site access is found at the top of the page and takes you to another bear and older guy hardcore site.
Bottom Line:
I have to say that Hot Older Male is a hot older site, withy content dating back over ten years now. It's very well designed, the video and image quality is good, the site is interactive and gives you lost of nice info and little extras, and everything works just fine. Updates are happening at the rate of around once per week, and you have no qualities worries. It's a great site for bear and daddy lovers.
Tags:
Hot Older Men,silver Daddies,gay Bears,mature Men, intergenerational gay porn, older and younger gay, older Gay,gay Daddy,hot Older Male,hairy Older Men,hairy,gay Older Men, Hotoldermale, Grandpa porn
High Definition Some
DRM Free Porn Yes
Downloadable Yes
Content Format Videos, models, galleries, blog
Live Shows No
Bonus Content Pantheon Bear
Multiple Site Hub No
Content Updated Weekly
VISIT Hot Older Male NOW!
VISIT Hot Older Male NOW!