Guys Divine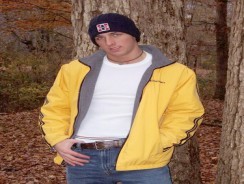 JUB Site Rating:
0 total vote





Guys Divine's Billing & Pricing
Guys Divine's primary billing processor: Verotel
One Week Trial - $9.99
One Month Trial - $29.99
Monthly Recurring - $18.00
Six Month Recurring - $99.99
VISIT Guys Divine NOW!
Guys Divine
is all about chat; so far so good. If you're into on-line chatting and making new friends across the globe then you'll enjoy this site. The emphasis is on interaction between you, other members and the guys who appear at scheduled times to chat with you. Most of these guys are big and beefy, hard muscled and handsome studs and they're all willing to chat in the chat room with a live camera feed. You can also view the previous chat sessions in the archives, find out about the guys' stats and see a few photos of them or join in the discussions at the forum. As I said it'm a site about communication and the more you put in the more you will get out.
But, I'v still not sure about this site. Taking a look around and playing back some of the archives I felt like a bit of a looser to be quite honest. The reason I go to adult sites is to see or read some adult content so I thought I'd see if you got any adult chat at
Guys Divine
. Clicking on the "enter chat" tab takes you to a list of things you can't do, like you can't ask the model any personal information, you can't ask him to play with himself and in particular you can't ask for extreme close ups of his buttocks (!?). Presumably you can ask him what the weather is like. I was also the only one in the chat room when I was browsing (as there was no model scheduled for that particular time) and, as I didn't fancy chatting to myself or even showing myself an illegal close up of my buttocks, I looked at some of the archived chats.
Here I found Vlad the hunky Russian talking to his dog, playing music and staring at the camera for minutes on end, fully clothed of course and not a buttock in site. I was a bit more hopeful of watching Jason ("nude" it said) and let that recording run on (archives stream in Windows Media Player) for a while as I carried on browsing the rest of the members' area. I popped back to Jason at nine minutes and he was standing up doing something with weights but not yet nude. At 20 minutes he was rummaging in his closet. 23 minutes - his trousers were off revealing dark briefs and he'm doing press ups. Sit ups at 30 minutes, still in briefs. Although at 35 minutes there was a close up of his packet I gave up when he then started talking about his diet.
Some of the eight featured models have picture galleries and biographies to read so you can find out more about them and no-doubt you'll find your favourite among them. Don't expect anything hard-core in the photo galleries, it'm not what
Guys Divine
is about. What it is about is talking to hunky guys and sharing your conversations with him and other members. The models (from what I can make out) talk back to you via their cam while members write in what they have to say or ask. You're promised at least four live chats a week and if that'm not enough for you, you can also communicate with other members via the forums.
Bottom line:
Perfect if you want to make virtual friends across the world and indulge in not too explicit chat with likeminded guys. Not so perfect if you're looking for sexual stimulation or hard-core chat and cam action. Maybe I missed the point or am just easily confused but it seems to me you're presented with hunky models and the suggestion of something sleazy and you simply get moderated chat.
VISIT Guys Divine NOW!
VISIT Guys Divine NOW!