Latin Jocks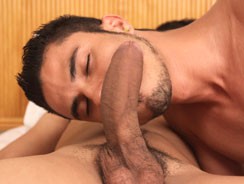 JUB Site Rating:
0 total vote





Latin Jocks's Billing & Pricing
Latin Jocks's primary billing processor: Ccbill
$19.95 for 30 Days (rebills at $14.99)
$29.95 for 30 Days (non-recurring)
$49.95 for 90 Days (rebills at $34.99)
$75.95 for 180 Days (breaks down to $12.66 a month)
VISIT Latin Jocks NOW!
Think of jocks as being college guys who play ball games and hang out on the bleachers, go to wild parties and generally have a good and youthful time of life. And think of your Latinos as being jocks with cocks, and you're getting a pretty good idea of the kinds of guys you're going to find at Latino Jocks. And you'll also understand the theme of the site and the way it is set out.
The tour will give you a good idea of who to expect once you're inside and, when you've signed up, you come back and click on one of the 'members' only' images on the tour to get straight into the protected area.
(You may also be led straight there following sign up of course.)
Once in here though you're going to find that your guys are arranged in a college-themed kind of way with Team Players being the action areas, Varsity Players being the slightly older Latin jocks in solo scenes and the Junior Varsity area holding the younger looking boys.
Then what you find is a site that is very simply designed. In fact it does, at first, look as if it leans to the amateur web design side of things, with simple thumbnails and underlined links leading you to the individual sets. There are no interactive things, like search engines and comments, ratings and favorites area; it's simply a matter of viewing pics and downloading videos. I'm not even sure how exclusive these guys are, but what I do know is that they are steaming hot.
They may also be a bit mixed up - some of the guys may appear in the action sets and in solo ones too, so it's hard to calculate numbers, and some have a few video clips while others have more. But the main thrust of the site is the youth and good looks, and good bodies, of the models; all of whom are Latino and all fall easily in to the 'Jock' category.
Images open up to 600 x 900 in size and can be downloaded individually, and each guy has various amounts of pics in his set. You don't have to click through one at a time as there are slideshows with the galleries, though you can also click further on into a set using the list of thumbnails along the bottom of the screen once the slides start.
As for the videos, I downloaded a couple as try-outs and, though I was told I could stream them, I actually had to download them first. This happened nice and fast and I ended up with a WMV file playing at 850kbps @ 640 x 480 in size. The quality was fine, the filming was good and the boys... well, they are certainly the best thing about Latin Jocks - that and the fact that it is a very simple site to use. Oh, and the fact that these must be some of the most well hung Latino boys we've seen for a while.
Not all of the guys have clips and there isn't any one area for videos or galleries, but all the same, this is a neat site to come to for Latino sex, and it's one that deserves our attention.
Bottom Line:
A few more interactive and extra features wouldn't go amiss here. Some update news actually in the members' area, and information about the boys (there is some), some things like favorites areas, comments and rates would be good too. But the site is all about the hot Latino Jocks and these are the guys that you get to see in a simple and easy to follow set of pages.
VISIT Latin Jocks NOW!
VISIT Latin Jocks NOW!