Streamen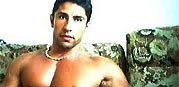 JUB Site Rating:
0 total vote





Updated: 2009-04-19
Primary Categories: Live Cams
Streamen's Billing & Pricing
Streamen's primary billing processor: Paycom
$2.99 per minute
VISIT Streamen NOW!


But without having to do all that you can still see what's available once you are a member:

There were 160 pages of models (not all male/gay) totaling around 2,240. Simply look around and see from the images who you might like to meet. Then you can click on his drop-down list of details and get to his own page, there you are told his stats, there's a bigger photo of him, and a schedule. If you want you can rate him (once you've seen him of course) or send him a private message. There is plenty of information here, more than you will find for free on some other cam and chat sites, so that's good news. If he has a photo album you can also take a look at that here. If he's on line and you want to see him there are links to the sign up page. If he's off line there is a link to the Browse Models area - which is where you stared this particular journey.

You'll notice a top tab that reads 'Browse Cams' and this is a simple way of getting to the live areas that are up and running at the time of your visit. This list covers all areas - including girls and specialty models, and there were 114 guys in the male area, including some doing anal, some muscle men and bi boys too. Select your category and you will get to the browse page fathering everyone available.

You have more than guys here. Check the drop-down category list on the browse pages to find girls, straight men, gay guys, couples, non-sexual hook ups and specialist performers. It's a great variety and there were over 1,000 solo gay guys in the list when I checked it, they won't all be on line at the same time though but you are told when someone is. When you find a live model you can take a sneak peek at what's going on. Here the guy I chose was simply hanging out waiting for someone to join him I guess. Again there are links to where you buy your membership and time so you can enter the premium video chat; though you can send in free messages it seems.

The only thing that I didn't like at Streamen was the fact that I had to enter my credit card details, even if they were not going to be used. Because I didn't do this I can't be sure how free 'free' really is - surely you can't view live sex shows for nothing? There must be some payments involved later. I searched the site and some review sites to see if there was any news for you on how much things might cost once you are a member but everywhere was very quiet on the subject - so I will have to leave it to you to discover if there are in fact and hidden charges, sorry about that! But you'll have a great time viewing the guys while you search.

Bottom Line:
Streamen is really well stocked with all kinds of live models; guys (and gals) of all ages and ethnicity, there are specialist performers and lots of information about each one. Its easy to use and you get a free lifetime membership to most of the site though you will have to provide card details before you advance, and there will probably be some charges involved when you want to go to the Premium chat and cam areas.
VISIT Streamen NOW!
VISIT Streamen NOW!