Straight Goes Gay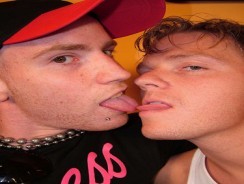 JUB Site Rating:
0 total vote





Updated: 2009-04-18
Primary Categories: Straight Men
Secondary Categories: Hardcore
Currently No Galleries
19 Videos
Straight Goes Gay's Billing & Pricing
Straight Goes Gay's primary billing processor: Paycom
Straight Goes Gay's optional billing processor(s): Ccbill
$4.87 For 3 Day Trial, Rebilling at $39.73 per Month
$39.73 per Month Recurring
VISIT Straight Goes Gay NOW!
Ok, so the theme here is time-honoured one of 'straight men try out gay sex for the first time and then never look back.' It's been done before and it will be done again but here at Straight Goes Gay you do get some genuine straight sounding and looking guys and some hot gay sex. There is a bit of a let down though as there were only 16 episodes when I visited and the rest of he site was made up of third party padding, but if you're up for a bit of everything, with some straight to gay content thrown in, then you should be ok.
Your members' home page lists all the other extras and features you can access once you've signed up with the most recent Straight Goes Gay scenes in the centre of the page, click any one to get to the full list and there you will find an image, short description and then links to the vids and photos.
Now then; I have to be honest here and say that what follows is from memory. Usually I am checking back and forth as I write to make sure I've got everything as accurate as possible, but I've just bee thrown out of the site and can't get back in. I was streaming a clip, fine, all went well after I'd entered my username and password, so I went back to try another clip. This time I entered my details and they were rejected. Going back to the main member's area I was confronted with a pop up box asking me if I wanted to see everything, yes of course, and clicking that took me out again - and I couldn't get back in for the life of me! Very annoying but hopefully only a temporary glitch.
What I do recall though is that the episodes started with an interview - which is always a good thing to see on a reality site as it adds to the reality! Here you can listen to the guys before the action starts and make up your own mind as to whether they are really straight or not. Then you can sit back and watch the movie knowing that these are real straight guys having a go for some cash and, usually, enjoying it. Each of the episodes was in clips of around one minute each, and the resolution chosen was low but ok, 342kbps @ 320 x 240. Actually a little on the small side but playing in a large WMV player it buffered quickly and wasn't a bad visual quality at all. I didn't find downloads or full length scenes, or any other kinds of media players in use. Scenes ran for around 20 minutes and contained two guys together and the first time gay sex as promised on the tour.
So, a bit of a brief visit but what was there was as promised. There are plenty of other things to view and do though with some reality sites to check into - with more straights going gay if I remember correctly, and some first timers in audition scenes. There is a whole heap of bonus feeds to view too and loads of galleries and games. As I said, a little bit of everything with some hot straight to gay action too - as long as you don't get thrown out like I was.
Bottom Line:
You will find 16 episodes here so far where you can listen to the straight guys before the gay sex happens. The filming quality is fine though the viewing options are not too hot. There are plenty of extras and bonuses on many themes to keep you amused while you wait for more episodes.
VISIT Straight Goes Gay NOW!
VISIT Straight Goes Gay NOW!