Latin Boys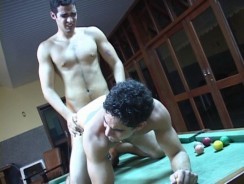 JUB Site Rating:
0 total vote





Latin Boys's Billing & Pricing
Latin Boys's primary billing processor: Paycom
3 Day Trial - $2.99 for 3 days
1 Month Membership - $39.99 for 30 days
VISIT Latin Boys NOW!
I love
Latin men
. I know that the world is fixated on big black cocks, but I really think that inch for inch,
Latin men are better hung
. At least in the girth department, I think they have black men beat when it comes to thick cocks. And of course a lot more
Latin men are uncut
- there's nothing I love more than a
big, thick, juicy piece of uncut Latino cock
. Drop me in the middle of Latino Town in any city and it'll be days before I make my way home.
So
Latin Boys
is right up my alley. And the first thing I was struck by was how easy and upfront their member'm area is. You enter your password and presto, the video clips are right there and below that, the picture galleries. No complicated navigation schemes and there aren't dozens of options, just pick a video clip and start watching. It'm beautifully simple.
Latin Boys
is adding four to six new video clips every month. And they're available in Windows Media Video format. The movies are divided into shorter clips to improve the streaming experience. And it'm quite easy to jump from one clip to another, so you can see the parts of the movie that really get you hot. Simple navigation allows you to stream the videos or download them to your computer for off-line viewing. And since each movie opens a new browser window, simply closing the browser will return you to the table of contents page. I have to say that
Latin Boys
has one of the simplest and more straightforward video clip navigation I've seen on any gay porn site. Nice job, guys!
At the time of this review
Latin Boys
featured nearly 50 video clips including everything from
hot, couple gay sex
to
solo jack off
and
full-on gang bang group sex
, with a fairly hefty selection of
outdoor sex scenes
. One of the hottest clips I watched was called "Cock Fest!" and it had
four sexy young Latino guys
having a bit of a beach party. With a little wine and the sun beating down on their hot, toned bodies, these guys started to strip and get it on. With a lot of passionate kissing, the group sex scene quickly heats up and everyone'm sucking cock. There'm a really hot chain-sucking scene that was exciting to watch. But I always feel sorry for the last guy in the chain, and he had such a beautiful cock, too. Another couple of guys join them and it becomes a full-on beach orgy with six guys sucking and fucking in a tangled crowd of bodies. Okay, I'd better stop talking about this or I won't be getting this review done.
In the picture galleries Rafael was my favourite. Hot fucking guy with a rock-solid body and the most interesting and beautiful brown eyes; lusciously big kissable lips and a bit of scruff on his chin. His hair is braided and pulled back into a ponytail. And this guy works hard on his body. His washboard stomach is super hot. And of course, he'm got a hot, thick and big cock. Man, I loved watching him finger his butt hole.
While
Latin Boys
has a healthy picture gallery section, their focus really is on providing members with as much video as possible. And they deliver.
Bottom Line:
Latin Boys
features a hot selection of video clips with a focus on gay sex rather than solo jack off. And we love watching Latin guys getting it on.
VISIT Latin Boys NOW!
VISIT Latin Boys NOW!