Power Men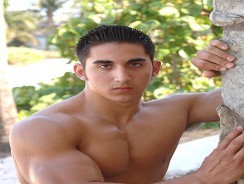 JUB Site Rating:
0 total vote





Power Men's Billing & Pricing
Power Men's primary billing processor: Ccbill
$19.95 recurring for 30 days
$99 for 180 days.
VISIT Power Men NOW!
Our Up and Cummer for this issue is the truly beautiful Ryan Raz. At 24 years of age, he is currently pursuing his master's degree in international relations! We asked him why he decided to get into porn and he said, "I have always been an exhibitionist, and this was a chance to take it to a new level. To me, porn is more than just sex. It's about life experience. I have always believed that our lives are the sum of our experiences. With that being said, porn is something that, as an exhibitionist, I have always wanted to do. Doing porn is an experience that not everybody experiences, and it is something that I enjoy doing."Ryan is a world traveler and has visited almost every country in the EU while getting his bachelor's degree. When asked where the wildest place he had ever had sex was, he surprised us with his answer. "On a temple dedicated to Apollo in Athens, Greece." states Ryan, "I was spending the summer studying in Greece and Turkey. We were visiting the temple very late one day, and when I was alone with a friend I said how hot it would be to have sex on the alter at sunset. The group had moved on to a far part of the site, and next thing I knew I was on my back having amazing sex." "My biggest sexual turn on is a man with a great smile. There is something about seeing someone laugh that gets me." Ryan has recently completed scenes for Lucas Entertainment, Hot House, BaitBus.com, Suite 703 and is represented by FabScout Entertainment. We asked him which porn star he most wants to do a scene with and he said, "I don't know if there is one that I most want to work with. There are so many hot men in this industry it is hard to pick just one. Is it possible to have them all?" Sure Ryan. We say do a scene with everyone, and we will be right there to watch! See more of Ryan at?
JustUsBoys.com/mag/132
VISIT Power Men NOW!
VISIT Power Men NOW!