The Knob Squad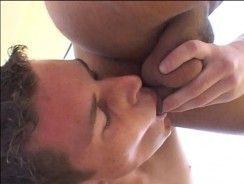 JUB Site Rating:
0 total vote





The Knob Squad's Billing & Pricing
The Knob Squad's primary billing processor: Paycom
The Knob Squad's optional billing processor(s): Ccbill
$4.97 Three Day Trial, Recurring At $34.97
$29.97 Per Month Recurring
$59.95 Ninety Days One Time Billing

Join By Credit Card, Check, or Telephone Billing
VISIT The Knob Squad NOW!


And in the members' area you can access all twenty four videos. O.k. so it's not a huge amount but your login also lets you in to twenty six other sex sites, five of which are gay sites. But first to the oral action movies. They are divided up into clips with a choice of playing speeds and viewers and each one comes with a photo gallery. Click your choice and the movie player page appears, the movie buffers and then starts streaming in. Or you can right click and download it to your PC by using the link you'll see beneath the media player. The movies are o.k. I'm not raving and I'm not saying they're bad, they are kind of... well o.k. really. The kind of things you'll see on just about any porn site. The thing that makes them a little bit special are the ordinary looking guys taking part; they may be amateurs but they're still hot.

The image sets that come with the movies will give you a good idea of what the action is in the video and you can view them in a slide show or one by one. The pics are taken from the movies but the quality is pretty good considering. And the action does concentrate on the oral aspect, lots of wet cocks being slurped on, cute guys giving head like experts and some decent cum shots to finish.

Like I said there are only 24 vids at the moment but you can also access those other sites. These include the famous and very horny 'Twinks for Cash' where smooth young things earn money by giving themselves up to a couple of horny older guys. 'His first gay experience' where more amateur young guys get together for their first taste of man sex, and 'Hot blind dates' where couple meet for the first time and then have sex. All of these sites contain images as well as videos and the material is hot and exclusive so they are a good place to go while you're waiting for more Knob Squad vids to be made and uploaded. Watch out for the other bonus sites though as they are straight sites - fine if you like that kind of thing and at least you know that the guys you are watching are real straight men!

You'll also find links to DVD and Toy stores and movies on demand but you'll have to pay extra to access them and buy things. And there is also a news section and a poll where you can cast your vote... but I'm not sure what for as it simply says 'vote'.

Bottom line:
Knob Squad says it's all about oral action and yes, the videos and images reflect this. There's some other sex going on too but in the main the site concentrates on the glory of a good blow job. The guys are amateurs but that's good, they're the kind of guys you or I would meet in the street or who live next door and they all give a good performance. There is not a huge amount of content and the bonus sites are, in the main, straight ones but you do get to access five other gay sites that are exclusive and good quality.
VISIT The Knob Squad NOW!
VISIT The Knob Squad NOW!